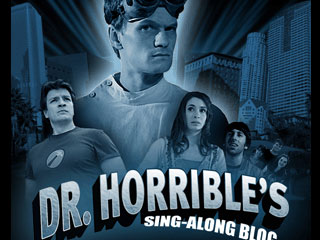 Joss Whedon (Buffy the Vampire Slayer, Firefly) decided to do a web project during the writers' strike. It's just hit the net and already come and gone in free form, but now the 36-minute three-part series is exclusively on iTunes (open in iTunes) for a flat $3.99.
It's worth it.
Whedon's project is Dr. Horrible's Sing-Along Blog, an Internet mini-series event about a struggling super villain (Neil Patrick Harris) who falls for the girl next door (Felicia Day).
Some excerpts from his master plan, so get ready to feel empowered, and follow his lead just without the famous actors, big money, and industry connections:
It is time for us to change the face of Show Business as we know it. You know the old adage, "It's Show Business – not Show Friends"? Well now it's Show Friends. We did that. To Show Business. To show Show Business we mean business. (Also, there are now other businesses like it.)

I finally decided to do something very ambitious, very exciting, very mid-life-crisisy. Aided only by everyone I had worked with, was related to or had ever met, I single-handedly created this unique little epic. A super-villain musical, of which, as we all know, there are far too few.

The idea was to make it on the fly, on the cheap – but to make it. To turn out a really thrilling, professionalish piece of entertainment specifically for the Internet. To show how much could be done with very little. To show the world there is another way. To give the public (and in particular you guys) something for all your support and patience. And to make a lot of silly jokes. Actually, that sentence probably should have come first.
If you like the sound of that, read more on the official site.
This project as a whole asks us, can we change the way we do business as creatives? Will the Internet provide us filmmakers with actual income and communal support? It could mean you no longer hope some exec sees it on YouTube; you might not need him down the road. The middle man is long gone. Today the relationship is artist to viewer and distribution is bandwidth.