Part of a series of posts about active artists with the tenacity to take their project to completion.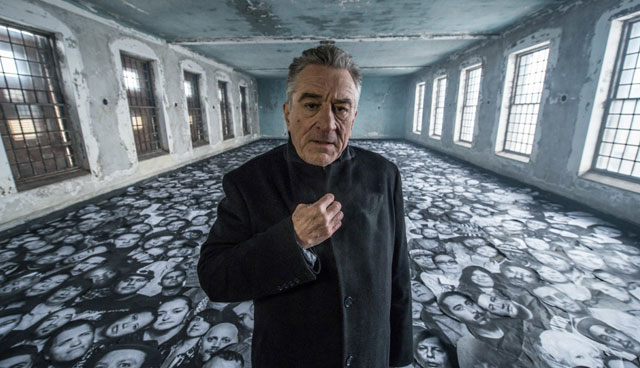 In between doing oversized black-and-white paste-ups in cities around the world or collaborating with filmmakers Agnes Varda and Darren Aronofsky, self-described "pervasive" artist JR (a pseudonym, in case you're wondering) directed a short film with Robert De Niro at Ellis Island.
"Ellis" is an immigration-centric short film whose voice-over driven narrative touches upon the hyper-relevant refugee crisis of years past that's still relevant today. It premiered at the New Yorker film festival and even had some free public screenings in places like London's Lazarides Gallery and New York City's Galerie Perrotin Pop Up Space. The Tribeca Film Festival also spotted it projected on some walls.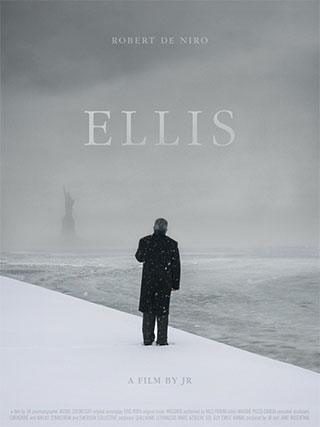 While the trailer has been online for months, the entire 14-minute film is now officially free on iTunes. The project, which included a photo book by JR called "The Ghosts of Ellis Island," was part of the Save Ellis Island initiative, which hosted his "Unframed – Ellis Island" exhibit, featuring black-and-white photos of immigrants who used to be there. The short, which featured those archival photos, was written by Eric Roth, shot by Andre Chemetoff, and scored by Woodkid.
Having just visited Ellis Island myself for the first time last week, I wondered about the other buildings on the island, which are all unavailable to tourists after being abandoned over half a century ago. In an interview for the MPAA's Where To Watch blog, the artist shared that he "was documenting something that will never be documented again and has never been before, which is pretty rare." (In some of the press material for the film, I learned there's a "hard hat" tour, where you can see some of JR's installation in person.)
The production process was also not that rushed: to give more wear-and-tear to his work, he installed the paste-ups months before filming the walk throughs. The review in the New York Times also cited an epic snowstorm and that "permission to shoot on a historic site that had been closed to the public for 60 years." His mantra for releasing the film for free, he told the Times, has been "to just try to get people to see it."
Impressive. Most impressive.
(The last time we featured JR was in 2011 when he won the TED prize for his global art project.)