Part of a series of posts about active artists with the tenacity to take their project to completion.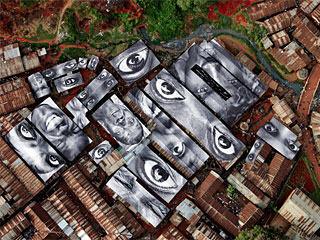 From artist Ronald Chase:
JR is one of the most original artists of our decade, and it's an art you should be aware of. There is an article about him in this week's New Yorker, if you want to explore it more. But this film shows why he won the TED prize ($100,000 to create something bigger).
For more about JR, visit his official site, learn more about this project at insideoutproject.net, watch his recent talk at the TED conference, and read an October 2010 New York Times article.