Part of a series of posts about active artists with the tenacity to take their project to completion.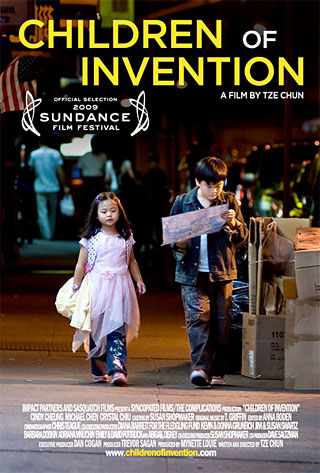 "Children of Invention," screening this week in Los Angeles and New York, is a product of a 10-month hustle from first draft to its 2009 premiere at Sundance.
Writer-director Tze Chun, who did eleven no-budget shorts before having a short at Sundance two years prior, made all the right moves before going into Park City with his feature. He hired Anna Boden (writer/producer/co-director/editor of "Half Nelson") to edit during their 25-day shoot to make Sundance's extended deadline as well as bringing on other professionals to rep the film and to handle publicity.
Chun's team also included a regular collaborator, acting coach and assistant director Sheila Dvorak. Together they've worked nearly a dozen times, literally as a two-person crew with her on the boom and Chun on the camera.
But without a solid distribution deal for this acclaimed film, Chun's team has since been well on the way to recoup the under-$500k budget by self-distributing the film: they're selling DVDs online via IndieBlitz and at their select screenings across the country.
From the interview with Film Independent:
"They knew that everyone responded well to the kids' performances and they would become festival discoveries, so they decided to exploit that angle. Tze [Chun] designed a poster with both children on it, and [David] Magdael approved the design and the two young actors were brought to Park City and were in attendance at every screening. … While touring the festival circuit, Mynette [Louie] and Tze decided to sell DVD copies of the film themselves after consulting with Peter Broderick and Ted Hope, and getting encouragement from their investors. They designed and made DVDs (for around $1 each) to sell after festival screenings. Additionally, Mynette designed an online store on the film's website to help push DVD sales. Ever committed to keeping costs low, their DVD sales efforts remain a two-person operation."
From Chun's D.I.Y. manifesto on the official site:
"As filmmakers, we need to be responsible and do everything we can to try to recoup the cost of making our films — we owe that to our investors, cast, and crew. If our little experiment works, great. If not, we'll have some data that'll help other indie filmmakers in the future, and hopefully get everyone closer to a distribution model that works. … People want to consume their media the way they want to consume their media, and that's that. It's more proof that the traditional release windows are becoming irrelevant."
"Children of Invention" was also selected as one of the YouTube Rental films, a recent experiment in bringing Sundance films beyond the festival:
"And at 86 minutes long, it's probably 85 minutes longer than most videos YouTube users log on to watch," said Chun. "But we're hoping that the YouTube audience, as well as viewers new to YouTube, will see this as a paradigm shift — we hope that they will come to the site to get immersed in a film for an hour and a half, and have the type of experience that one usually reserves for the theaters."
From the article "10 reasons why they are glad they distributed DIY," on Truly Free Film:
"We started selling DVDs at festivals immediately after Sundance. We found that about 10% of audiences will buy the DVD after each screening, and 20% of audiences will buy if it's an Asian American fest. We've made back over 20% of our budget on the festival circuit by selling DVDs and collecting screening fees (another benefit of playing as many festivals as possible)."
For more information on upcoming and recent screenings, visit the official site.