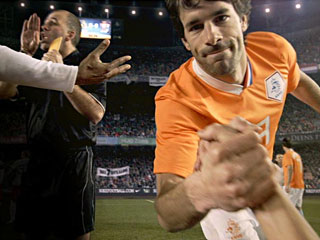 Let's say you've got a gig that involves a camera rigged to a helmet for some point-of-view dynamism. (I do.) Where do you go if your web or your rolodex doesn't have the answer?
Turn to a professional online community like the CML (Cinematography Mailing List), a list since 1996 originally for 60 cinematographers created by Geoff Boyle. (They now have over two dozen lists, "4 with over 4,000 members and 17 with over 2,500 members worldwide.") Mix that caliber of group with Guy Richie's 2-minute Nike Soccer spot, "Take It To The Next Level," which epitomizes the use of modern helmet-rigged, first-person perspective camera work:
(View it bigger at Nike.com. Update: Nike no longer hosts the spot.)
How about some answers from the camera crew? No problem. Check out these excerpts from a four-day flurry of messages:
Sun, Feb 15, 2009 at 2:59 PM — D A Oldis wrote:
One of my clients saw a Nike soccer spot directed by Guy Ritchie. (Soccer spot for U.S. readers. Football spot for everyone else.) … The client wants me to shoot something similar. … Does anyone know how they mounted the camera onto the player's shoulder? If so, using what kind of rig and what camera/lens?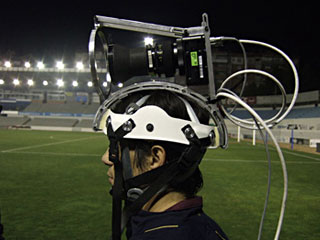 Sun, Feb 15, 2009 at 3:37 PM — Jason Rodriguez (Post Production Artist, Virginia Beach, VA) wrote:
That Nike spot called "Take it to the next level" was shot with an SI-2K MINI mounted to the head of the player.

You can read more information here: http://axisfilms.co.uk/news…

Sun, Feb 15, 2009 at 5:48 PM — Mitch Gross (Applications Specialist, Abel Cine Tech) wrote:
The spot is all digital. The vast majority of it shot on an SI-Mini mounted to sit right in front of the operator's face. There's one high speed shot done on the Phantom HD and some stadium background plate from an Arri D-21. It's a great spot posted through The Mill.
Mon, Feb 16, 2009 at 10:24 PM — Jason Rodriguez (Post Production Artist, Virginia Beach, VA) wrote:
So the player carried ("backpacked") the laptop while on the field? No issues with lost data from the jostling?

Keep in mind that in addition to the SI-2K MINI's optional ethernet tether to a remote recording station, there are now readily available options for solid-state recording that strongly mitigate the risks of data-loss incurred during physical activity when compared to normal mechanical hard-disk drives.
Mon, Feb 16, 2009 at 7:40 AM — David Higgs BSC (London) wrote:
One of my clients saw a Nike soccer spot directed by Guy Ritchie. (Soccer spot for U.S. readers. Football spot for everyone else.)

I shot this spot. It was 95% shot with helmet cam, the camera being an SI-Mini tethered to a laptop. Quite complicated to monitor "live" as well, and quite heavy on crew levels. It always seems to be two people per laptop. Though it looks "cheap" in practice it isn't.
Tue, Feb 17, 2009 at 7:11 PM — James Eggleton (Imaging R&D, Digilab London) wrote:
I was one of the two SI-2K camera techs on the Nike commercial, so I thought I'd wade in…

The brief was to allow the "hero" footballer complete freedom to run around the pitch.
Our solution was to put all the recording equipment in a rucksack that could be worn by the footballer, and control everything by remote control from the edge of the pitch.

It proved a little difficult to run whilst wearing both the helmet cam and the recording rucksack, so the footballer wore the helmet, while a Grip trailed very closely behind wearing the recording rucksack.

The recording system… A heavily customized baby-carrier containing:

2.6Ghz Macbook Pro laptop (running Windows XP and the Silicon DVR recording software)
DVI->CVBS converter, to convert the monitor output of the laptop to composite video.
CVBS video transmitter and 2 aerials, to send a live video feed to video village.
Fast Compact Flash card writer.
IDX 12V battery to power the transmitter and camera head.
20ft cable loom to provide power and data connectivity to the SI-2K camera head.

Two complete recording systems were built so that one could be off the field being rigged while the other was in use. … We used the highest quality Cineform RAW compression setting that was available. All data was recorded to 8GB Compact Flash cards (slotted into the card writer in the backpack), giving us about 7 mins of recording time per card. There were 8 compact flash cards that were cycled during the shoot. It would not have been possible to record to hard drives due to the intense shocks and vibrations.

It was an extremely challenging shoot, primarily because we were completely reliant on wireless communication. Great fun though.
Wed, Feb 18, 2009 at 11:38 PM — Peter Marsden (Film & Digital AC, London, United Kingdom) wrote:
I was the other SI-2K camera tech on the Nike commercial alongside James.

I have a selection of pictures from the shoot here. [Editor's Note: links no longer available.]

Since Nike, I have done two more commercials in the similar style, one for the British Heart Foundation with David Higgs — http://www.2minutes.org.uk. We used the 'Nike Helmet' but it was a much simpler setup, no fancy wireless required.

And for the Royal Australian Navy with Nigel Bluck — http://youtube.com/watch….

…

One thing not mentioned yet is lenses. For Nike camera tests, Kinoptic 5.7 was used, but it was decided that it difficult to get the camera mount shimmed properly to get it sharp. Next came the Century 6mm, which with a bit of effort a camera mount was shimmed (it was done on location without a collimator). After two days, some of the new Arri Ultra 16 primes arrived, and we never looked back. Most of Nike is the 6mm, and some 8mm shots.

…

Hope this all helps!
Yes, that does all help indeed. Never stop learning and cheers to the power of professional, online communities.