Adobe has released Story, a free screenwriting tool using online collaboration and offline coordination that (of course) comes full circle with Adobe's other film production software.
Metadata is tag-like information below the surface that should remain a constant throughout a project. In a press preview earlier this month, according to Adobe's Director of Flash Content Creation and Distribution, Jennifer Taylor, "[v]ideo creators understand that the key to workflow optimization is metadata. … It's best to capture metadata as early in the process as possible." Examples in the preview include "character biographies, links as reference points, and fashion synopses."
Collaborative film production software isn't new. Celtx (free), EP Scheduling, Gorilla Pro and Showbiz Scheduling are common tools of the trade. But one thing unique to Adobe Story and its proposed workflow is an engaging step into online distribution. Again, from the press preview:
When the video production is ready for online distribution, the metadata can also help viewers discover and search through content to find favorite characters, episodes, or scenes, making the viewing experience more interactive.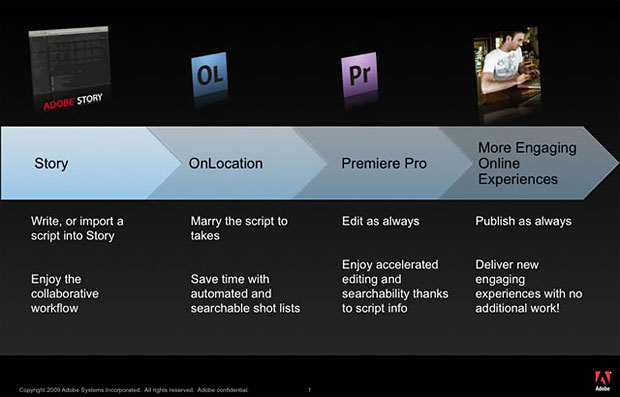 Earlier this year, competitor Apple filed a patent for a storyboarding app that used metadata to help with workflows to Final Cut Pro.
(Thanks to @carlothebarlo for the link.)