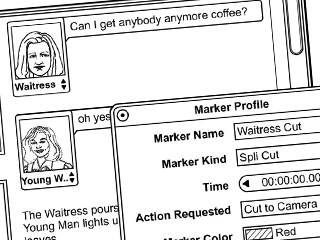 You can never be too prepared, right? Whether it's pen illustration, 3D animatics, or stuck in the director's head, a film's pre-production documentation helps ground ideas to communicate efficiently. Sequence storyboards, shooting schedules, and location breakdowns all stem from figuring out the shots to cover a script. Already, there are plenty of niche applications to learn and use for each step of the way.
But last week Apple filed a patent to enter the pre-production market with its own storyboard app. Think for a moment about how iTunes organized our music. Maybe this move could further organize, simplify and exchange pre-production information.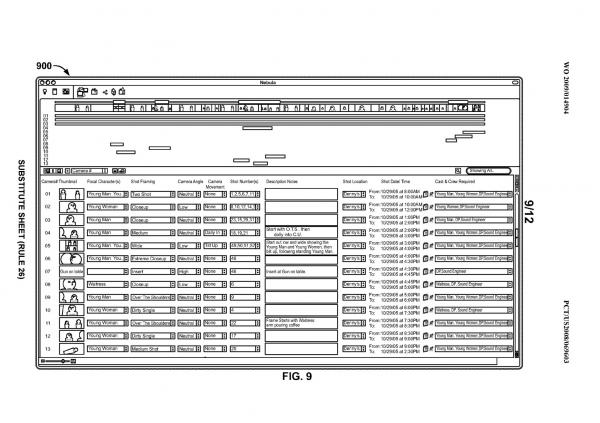 The patent describes some of the tools. "In one general sense, a storyboard presentation for a motion picture production is generated by launching a scene design tool that includes a camera placement tool and an actor placement tool."
Another tool is for scene design. "Based on the location and orientation of the first actor icon and the first camera icon, the scene design tool then generates a first projection of the scene featuring the first actor as seen from the first camera. For example, the scene design tool may generate a storyboard that gives a viewer a sense of how the shot would appear based on the present locations and configurations (e.g., focal length) of the camera relative to the location and orientation of the actors. The storyboard is integrated with a script so that a viewer may perceive the dialog in association with a particular shot. The storyboard then may be distributed to actors and crew in advance of production to aid in preparation."
Beyond just storyboards themselves is a plan for further script- and production-integration. "A production guide is generated, the production guide displaying, for each of segments within the designated time period, a location, a segment projection, a list of actors required by the segment at the location, a list of required cameras at the location, a list of shots within the segment at the location, and an allocated time window."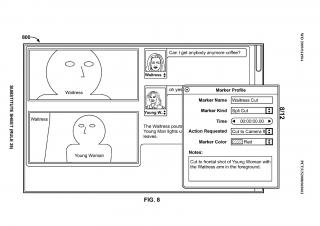 In the supporting illustrations on the patent, the proposed GUI has a similar appearance to Apple's Address Book for talent, Apple's iChat for scripted dialog with avatar icons, and Apple's Final Cut for viewing a project's proposed timeline.
InformationWeek found that the patent lists Gregory Lindley as one of the inventors of "Script-Integrated Storyboards." According to his web site, he has worked at Apple since 2005 as a product designer, specifically for Final Cut Express.
In 2008, Apple.com published a Pro article — "Beyond Print, Preparing to Enter the Motion Based World," created by Glow Marketing — about using your Mac to dive in. "You can create storyboards in Pages, Illustrator, iMovie, Keynote, Toon Boom, Final Cut Pro, or another graphic-oriented program," notes an Apple.com profile on storyboard art. "For (an) example, we are going to use StoryBoard Artist by PowerProduction Software."
In 2009, may we expect something new. Until then, some additional pre-production software (in alphabetical order, list prices as of time of publication):
For more, see the initial reporting in InformationWeek and a break-down of the patent on MacBlogz.com.