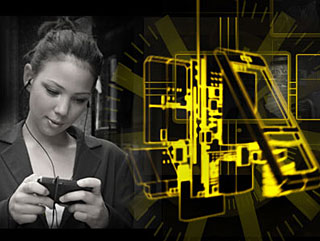 "Movies as derives," notes D. Scott Hessels, media artist and filmmaker based in Singapore, on his Facebook. His latest work, GPS Film, is open-source software for filmmakers and developers to create stories for places. Instead of passively sitting in a theater, a storyline unfolding before your eyes, this experiments with the storyline being revealed by your path and the film being shaped by your surroundings.
Developed in a collaboration between engineering and art students at Nanyang Technological University's School of Art, Design and Media, where Hessels teaches, the open-source software allows developers to "create story spaces as small as parks and as big as the globe."
[vimeo]http://vimeo.com/1434557[/vimeo]
Geotagging is a central idea for this interactive experiment, but also walking through spaces on a derive. Similar to Baudelaire's theory of a flaneur, French writer Guy Debord penned a Situationist essay called "Theory of the Derive" in 1958. He described a derive as the action of an individual to "drop their relations, their work and leisure activities, and all their other usual motives for movement and action, and let themselves be drawn by the attractions of the terrain and the encounters they find there."
The first GPS film is the Singaporean chase comedy "Nine Lives," written and directed by Kenny Tan and executive produced by D. Scott Hessels. The story involves nine neighborhoods and "how a confused exchange of 3 duffle bags at a public busstop causes a hapless office worker to be running from both the Police and a dim-witted crime gang."
While the trailer is on YouTube (embedded below) and Vimeo, the entire film will soon be available for free online with the Windows Mobile software at GPSfilm.com. Walking the central business district of Singapore would demonstrate the artwork.
Several of Hessels' previous work mixes cinema with emerging technologies, such as Brakelights, which I had the pleasure of shooting. His feature documentary film, The Pikme-up, was also a collaboration with P. James Keitel.
Related, the subject of watching film on mobile devices is polemic, especially if you ask filmmakers like Spike Lee and David Lynch. Developing applications, especially for the iPhone, is an up-and-coming gold rush, too. Geotagging, video and mobile have come together before: in theory with MIT's M-Views (PDF) and in user-generated content on Flickr, Motionbox, and YouTube, which allow geotagging videos.