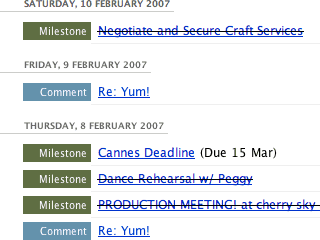 [Update: This article is about what is now called Basecamp Classic. You may still be able to get an account for it at signup.37signals.com and it's supposedly still maintained, despite a brand new Basecamp.]
Every project has to-do's, updates, and deadlines. Any filmmaker acquainted with Basecamp is already a step ahead in managing their next gig.
Basecamp is a web-based project management tool from 37signals. "[It's] an amazing product. Very versatile. A little expensive but certainly worth it," says director Jaraad Virani, who uses Basecamp. The tool breaks down a project into intuitive pieces: to-do lists, messages, calendar deadlines, and so on.
Yesterday at SXSW, Jason Fried of 37signals presented on what he's learned from the success of Basecamp (presentation notes c/o ReadWrite Web), which included a slide on part of their company philosophy: "Be Successful and Make Money by Helping Other People be Successful and Make Money."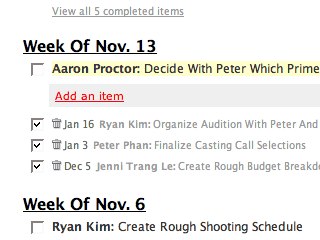 Success and money in mind, with any team effort, online collaboration improves productivity by focusing in one place all of the real, tangible goals. But adopting Basecamp is a real cultural shift, sometimes great enough to keep the status quo. I've noticed how everyone already has their own way to take notes, write e-mails, and add to calendars. For a team, it's not efficient. The hardest challenge to newcomers is using a web tool instead of unfocused e-mails, handwritten notes, and long-winded meetings. After a demo or tour of the official site, I notice it sells the idea itself: everyone on the team, literally on the same page, without more meetings, more e-mail, or more misunderstandings. But, in practice, it takes early adopters and friendly encouragement.
The primary use for independent filmmakers and their complex film gigs is to use Basecamp for production. rav design, a full-service video production and graphic design firm, loves Basecamp. "We used it to organize our 48 Hour Film Project. … [W]e were working with crew members from across the state who had never worked together, and in some cases never physically met before the shoot. We posted workflows, guidelines, rules and shared location scouting info all in an elegant location." For both clients and collaborators alike, how ideal of a work environment is that?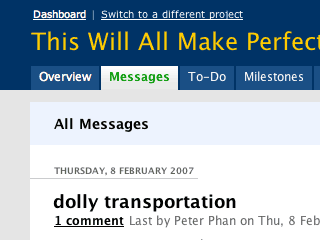 Basecamp's epicenter is the project, which is a familiar quantity for any kind of contract work. Rhett Dunlap, a Los Angeles-based producer and owner of Egomaniac Productions, has yet to give it a spin. "We haven't gotten Basecamp yet … though it looks very very cool. We'll get it if we land this bid. And use it for the production." For one project, it's free to use. For more, you have to pay a monthly fee on a sliding scale of "open" projects, which includes the perks of file hosting, chat, or more than two "Writeboards," a Wiki-style document. Their business model is premium subscriptions, but there's no individual cost per person, so it's easy to add logins for your team or to share work-in-progress with your clients.
Any feature, short, commercial, or webisode can easily benefit from the focal point that an online project management tool provides. You can even get by without touching a credit card.
Google Sites offers a free alternative and ActiveCollab has a similar, paid plan to Basecamp.