You're in front of your computer, logged into a social network and savvy to instant messaging throughout your day. But the luxury of viewing a film with others at the same time is an experience left mostly for you at your local movie theater. Lately, that's all in flux. Take the latest short film from Spike Jonze, I'm Here. As explained on the film's Tumblr, there's a theater-like experience to see the film before it's "sold out" for the day:
"Social media functionality makes it possible to watch the film together with Facebook friends, and the cinema experience is highly realistic. But hurry on, the cinema only offers 5,000 seats a day. … Due to enormous interest in watching I'm Here at Imhermovie.com ABSOLUT [the film's sponsor] has decided to increase the capacity from 5,000 to 12,000 viewers a day. Last weekend Imheremovie.com had 230,000 unique visitors, which was far more than expected."
User Experience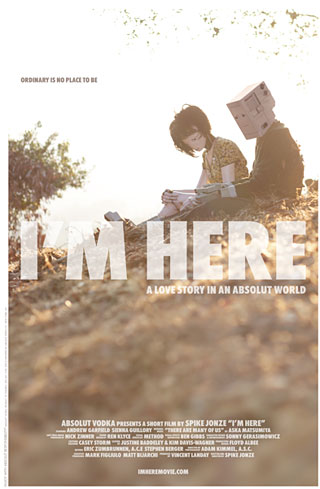 Missing is the expected player-with-a-chat-window, which isn't a realistic joy of your normal cinema experience anyway. In its place, via Facebook Connect, is a simple way to select ten Facebook friends (who are over 21) to be notified that you're watching the film and "join" you. There's no sensitivity to whether your friends are online or off and the social experience is a post to your wall.
One clever bit is when the site uses your Facebook profile picture to show you a more personalized "ticket," along with generic first-person video of going into and out of a movie theater. One annoying control is the icon on the top right of the film's player, which should have been marked an "exit" sign.
Time-Sensitivity
I believe the per-day limit provides a pleasant sense of urgency and timeliness, just like how a film has a certain theatrical run. The real benefit that's uniquely online, however, is fostering community and cultivating conversation. Great for any product, large or small.
Take major events on television as another example. You've got a whole lot of people plugged into the grid at the same time of broadcast as, say, the Inauguration or the Super Bowl or the Oscars. Unless it's strategically streamed live or semi-delayed on official sites or big players like CNN, Facebook and YouTube, the conversation is secluded to rooms on USTREAM and tweets on Twitter, all before old media catches up to meet the demand for content.
Movie Marketing Madness publisher, Chris Thilk, recently wrote about the social viewing of such major events and how networks like PBS and MTV are looking online to curate timely conversation about their work:
"A higher level of engagement by the audience means more people are tuning in. Just like people are more inclined to watch a football game they otherwise have no interest in if they're going to be in a crowd of friends, if you know people are going to be chatting on Facebook you may be more likely to tune in. And the benefits for those who are engaging in these chats is similarly obvious: They get a sense of community and the camaraderie that comes with watching something with others, even if those others are only watching it with them virtually."
What's Next
Give a listen to Chris Adams, who helped Participant Media become a "platform for change," is now President/CEO of another venture, View2gether, which coined the term "social viewing." Over a year ago, ABC tested out "viewing parties" with one show, "Greek," where View2gether provided the platform. (Aside: NewTeeVee.com reports a party averaged 15 people.) His talk on fora.tv cuts to the chase:
"Video viewing is very linear. Video sharing is very linear. I see a video and say, hey you'll love this. Send it off. A minute, a day, never later you look at it, you hate it, you like it. I may get a response back. The evolution is to take all of these social networking tools and create synchronization, so everybody is watching the video at the same time. They're chatting against it. … It's not about getting your friends together. It's not about me and ten of my friends coming together and watching something. I may like UFOs. You might not. So am I going to recruit and haze you into a UFO lounge? No. I want to go to a UFO lounge where there's other idiots like me. And I can chat about it."
Next up for View2gether is to make users their own video programmers for MTV, an experience I found needs much improvement. Next up for Participant is continuing their TakePart.com microsites, like the Oscar-winning documentary The Cove, which is less about immediate social chatter as much as real-world social action.
And what about filmmakers with a sponsor who doesn't require a product shot? ADWEEK has the lowdown:
"'This is an emotional expression of the brand,' says Anna Malmhake, vp, global marketing at Absolut. 'None of us could see what a shot of the vodka would have added.' … The agency briefed Jonze on the strategy, brand values and history, and he wrote the script. … Set in a not-too-distant future where humans and robots are learning to co-exist, the film is part of the agency's larger 'In an Absolut world' campaign, which has the tag 'Ordinary is no place to be.'"
We'll take more, please.