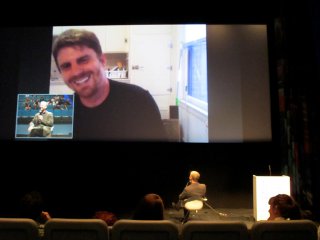 Last night at a preview screening of "Bellflower" at the Museum of the Moving Picture, director Evan Glodell did a 30-minute Q&A skyping from a friend's kitchen with chief curator David Schwartz and the audience directly, which FWD:labs member and screenwriter Eric Szyszka attended.
The auteur, who made this first feature for $17,000, claims to have never even heard of director Wong Kar-wai and vaguely knows the name Jim Jarmusch.
"Bellflower" premiered at the 2011 Sundance Film Festival and picked up distribution. Part of his contract is to build two flamethrowers for the distributor, which Glodell has been building since the age of 12. The film screening was followed by a 35mm print of the original "Mad Max."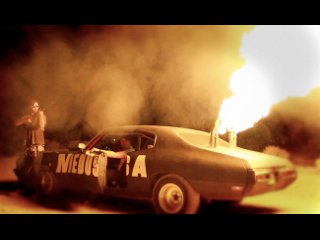 According to an interview with Fast Company, he built his own view camera based around a SI-2K mini, which he calls the Coatwolf Model II:
The Model II combines the SI-2K's digital cinema chip with an utterly enormous 4×5 imaging plane — the same size favored by fine-art still photographers. That's why the (it) looks almost like two cameras Siamese-twinned together: It's essentially a large-format view camera whose ground glass is "filmed" by a Hollywood-quality digital camcorder.

"This camera does things that no other camera on the planet can do," Glodell says. "It can do tilt-shift effects with any lens. It can make a Steadicam shot from five feet away look like a telephoto shot from 100 feet away. It's like looking out of a whale's eye."
In the film's review in the New York Times, "Bellflower" is aptly compared to Robert Rodriguez "El Mariachi:"
Mr. Glodell is working distinctly different story terrain, however — in this case, an affair gone apocalyptic — and with technical virtuosity and beauty. Playing with color, he washes "Bellflower" in a warm orange that soon heats up, and lets grime spatter the lens to accentuate Woodrow's increasingly murky thinking. Unlike many young filmmakers, Mr. Glodell, working with his cinematographer, Joel Hodge, fully exploits the plasticity of the image. The intentional roughness of his visuals, their literal dirt and distortions, underscores that this is handmade, personal moviemaking.
Related, check out the car's appearance in three recent 5 Second Films: Burning Rubber, Joy Ride, and Film Permit.