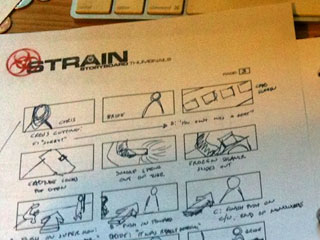 Director Reynier Molenaar is knee-deep in making his most involved film yet. STRAIN follows two survivors of the zombie apocalypse who must travel across ground zero — an abandoned Los Angeles — to deliver important biological samples. According to Molenaar, "it takes an emotionally realistic view of a genre classic. Basically, if you were to breed an action sci-fi with an indie drama, STRAIN would be its spawn." Check out his visual treatment for more.
What's been your approach for building support, be it growing your team or fund-raising your budget?
Reynier Molenaar The very first thing I do when I start prepping a new script, is create a visual treatment. I find that people are more likely to look at my project if they see some exciting visuals. Every treatment I do is totally different from my last and I always try to inspire the reader to imagine "the feel" of the film. In designing my visual treatment for STRAIN, I made lots of sketches, gathered reference photos, designed a title-treatment, chose my color palette and made key art. So by the time I got into full-on preproduction, I was able to use all those assets to create marketing and fundraising materials, such as posters, fliers and the website. The website is the hub for all things STRAIN.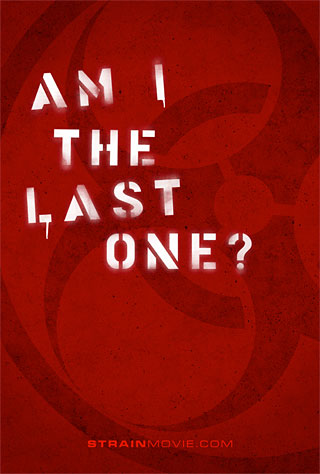 How did the teaser poster campaign come to be? How has its response been for this grassroots fundraiser?
RM I think it's really hard to get people to part with their cash, especially for a short film — and ESPECIALLY during a recession! So I knew I had to get creative! I came up with the idea of selling signed, limited edition posters on the STRAIN website. This way, supporters are actually buying something cool instead of just giving away their hard-earned cash. And depending on how much they spend, supporters can even get credit in the film — like Executive Producer. It's been a great way for me to get people interested in the production, but ultimately, fundraising is always hard work and requires tenacity. I'm just hoping one day these posters will be worth something on eBay and all my supporters can cash in!
What are your other marketing and outreach strategies for STRAIN, either before or during production?
RM Everybody involved with the project has been blogging at http://strainmovie.com. So basically, the site is a multi-person account of the making of STRAIN. We keep it honest and intimate so that aspiring filmmakers and fans can get a REAL idea of what goes into making an indie short film, warts and all.
Along those lines, I've also been shooting and editing a short video series called, "Behind The STRAIN." Each episodes showcases the cast and crew as we attempt to make this ambitious (and sometimes overwhelming) short film. The videos are usually pretty simple, with me just hand-holding the camera and talking right into the lens, but it's a good way to let people into our creative process.
After the film is completed, my plan is to launch the 2nd version of the film's website, with a new look. The new STRAIN site will feature the completed short film, as well as a lot of behind-the-scenes photos/video and interactive elements. But first things first! Anybody want to buy a poster? No, seriously, anybody…?
What's your plan with the upcoming STRAIN party? What do you hope will come from the event?
RM On Saturday, June 12th, 2010, we're throwing a FREE party for STRAIN and it's open to the public. The concept is really simple: I want people to dance and have a good time. I think a lot of people who work in showbusiness are tired of mixers where you hand out business cards and talk shop all night long. This will be a REAL party with a really awesome DJ and cash bar. Hopefully, we can get some people to donate a little something for STRAIN and participate in our raffle — but that's up to them. I'm just really excited to party with some new people and celebrate indie filmmaking!
So bring your friends and come ready to PARTY!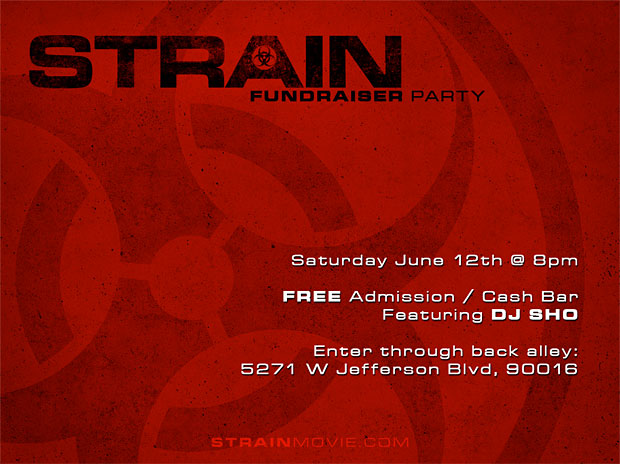 STRAIN Fundraiser Party
Saturday June 12th @ 8pm
FREE Admission / Cash Bar
Featuring DJ SHO
Enter through back alley:
5271 W Jefferson Blvd., Los Angeles, CA 90016
Where do you think film fundraising is headed next?
RM I've always believed that your best fundraising tool is your body of work. If you can wow or inspire a financier with your last film, then they will be willing to hear the pitch for your next project. And with new digital cameras and desktop post-production available to every filmmaker, there're no more excuses! It really comes down to your drive and passion for storytelling. So every day I wake up and ask myself, "what can I do to be a better filmmaker?" And my hope is that financiers will take notice. That, and I play the Lotto every week!