In appreciation of all the nominees for the 2016 Academy Awards, here is another perspective at the 57 different nominees — their official film websites.
Some highlights of looking through them all include:
How many official film sites used Tumblr as their platform? 6, but one wasn't working so well.
How about using Facebook as their official site? 2 — and both were distributed by Netflix, a digitally born company that ought to do better next time.
How about WordPress? 8.
How many sites rolled their own code? 30!
How many run a banner ad for something else above the fold? 1! Blasphemous!
How many films didn't have a clear official website? Definitely one! Woah. We're here to help.
Now, on with the show: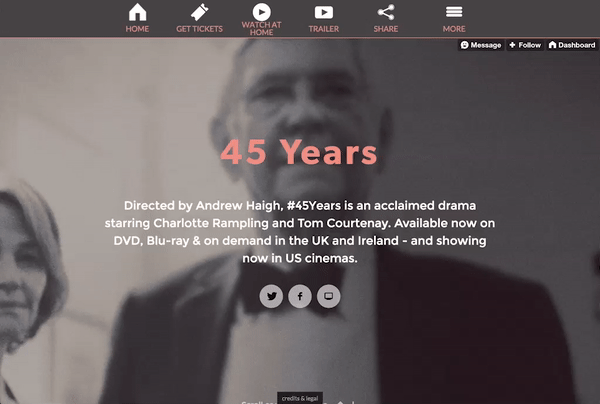 "45 Years"
45yearsfilm.com [NO LONGER ONLINE]
Nominated for Best Actress in a Leading Role
Website powered by Tumblr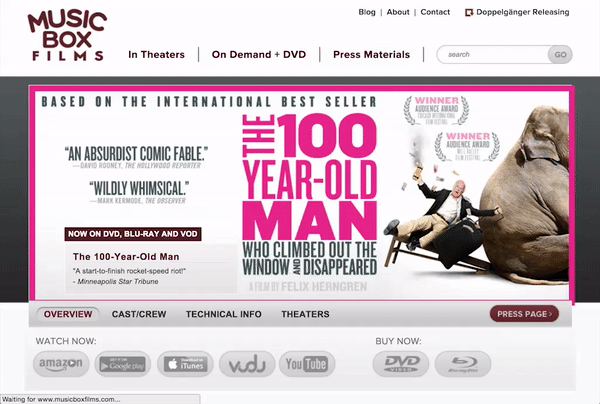 "The 100-Year-Old Man Who Climbed Out the Window and Disappeared"
Nominated for Best Makeup and Hairstyling
Custom HTML5/PHP website with some TypeKit typography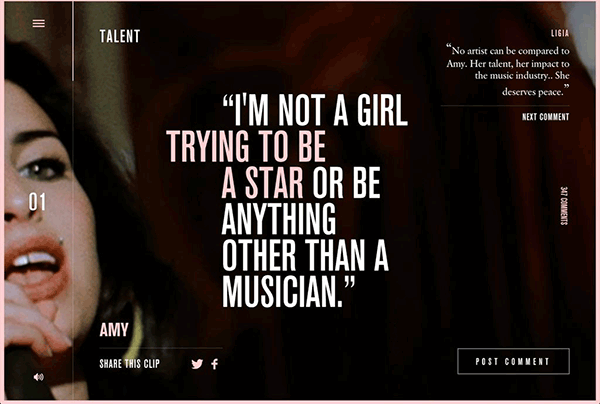 "Amy"
Winner for Best Documentary
Custom HTML5 website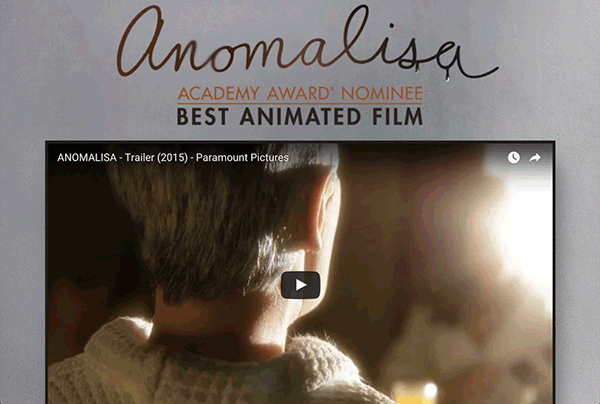 "Anomalisa"
anomalisa.com [NO LONGER ONLINE]
Nominated for Best Animated Feature Film
Custom HTML5 website with some Google Fonts typography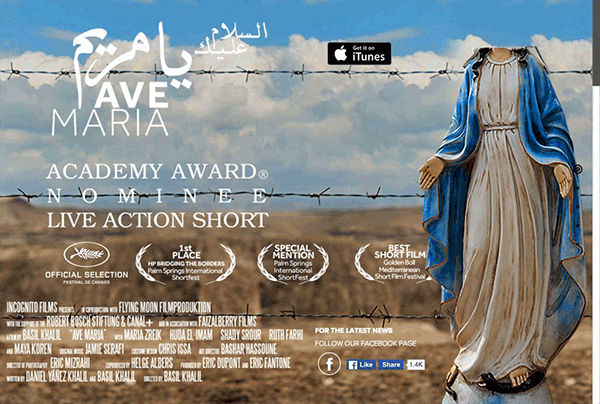 "Ave Maria"
Nominated for Best Live Action Short Film
Custom HTML5 website with some Fancybox jQuery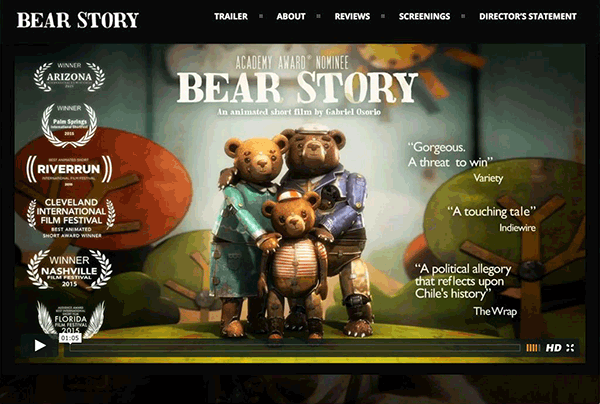 "Bear Story"
bearstory.cl [NO LONGER ONLINE]
Winner for Best Animated Short Film
Website powered by WordPress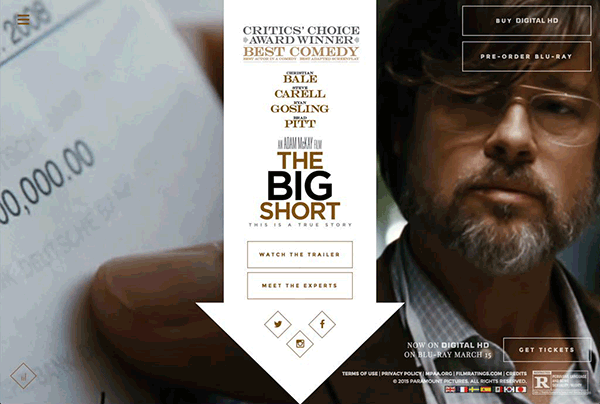 "The Big Short"
thebigshortmovie.com
Winner for Best Adapted Screenplay
Nominated for Best Picture, Best Actor in a Supporting Role, Best Directing, Best Film Editing
Custom HTML5 website using React boilerplate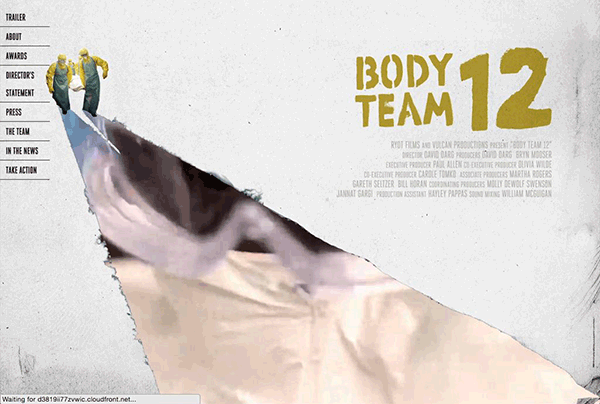 "Body Team 12"
bodyteam12.com [NO LONGER ONLINE]
Nominated for Best Documentary Short Subject
Website powered by WordPress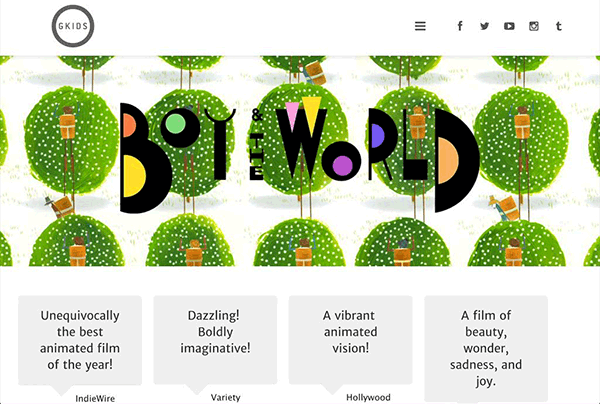 "Boy and the World"
"Bridge of Spies"

bridgeofspies.com [NO LONGER ONLINE]
Nominated for Best Picture, Best Actor in a Supporting Role, Best Original Screenplay, Best Original Score, Best Production Design, Best Sound Mixing
Custom HTML5 website with lots of JavaScript and some TypeKit typography

"Brooklyn"

foxsearchlight.com/brooklyn/ [there's also brooklyn-themovie.com running on Tumblr, but it's not loading consistently]
Nominated for Best Picture, Best Actress in a Leading Role, Best Adapted Screenplay
Generic studio template housing a custom HTML5 website with some TypeKit and also Google Fonts typography

"Carol"

Nominated for Best Actress in a Leading Role, Best Actress in a Supporting Role, Best Adapted Screenplay, Best Cinematography, Best Costume Design, Best Original Score
Custom HTML5 website with Bootstrap CSS

"Cartel Land"

Nominated for Best Documentary
Website built in Adobe Muse

"Chau, Beyond the Lines"

Nominated for Best Documentary Short Subject
Website powered by Squarespace

"Cinderella"

Nominated for Best Costume Design
Custom website with a banner ad at the top — wha?!

"Claude Lanzmann: Spectres of the Shoah"

Nominated for Best Documentary Short Subject
Website powered by Go Daddy Website Builder

"Creed"

Nominated for Best Actor in a Supporting Role
Website powered by Tumblr

"The Danish Girl"

Winner Best Actress in a Supporting Role
Nominated for Best Actor in a Leading Role, Best Costume Design, Best Production Design
Custom XHTML 1.0 website with Bootstrap JavaScript among other libraries

"Day One"

Nominated for Best Live Action Short Film
Website powered by Squarespace

"Embrace of the Serpent"

Nominated for Best Foreign-Language Film
Website powered by VHX

"Everything Will Be Okay (Alles Wird Gut)"

patrickvollrath.com [NO LONGER ONLINE] [not technically an official site for the one project]
Nominated for Best Live Action Short Film
Website powered by WIX

"Ex Machina"

Winner for Best Visual Effects
Nominated for Best Original Screenplay
Custom HTML5 website with some Google Fonts typography

"Fifty Shades of Grey"

fiftyshadesmovie.com [NO LONGER ONLINE]
Nominated for Best Original Song
Website powered by Tumblr

"A Girl in the River: The Price of Forgiveness"

Winner for Best Documentary Short Subject
Website powered by WordPress

"The Hateful Eight"

thehatefuleight.com [NO LONGER ONLINE]
Winner for Best Original Score
Nominated for Best Actress in a Supporting Role, Best Cinematography
Custom HTML5 website by Familiar crafted with a handful of JavaScript

"The Hunting Ground"

thehuntinggroundfilm.com [NO LONGER ONLINE]
Nominated for Best Original Song
Website powered by WordPress

"Inside Out"

Winner for Best Animated Feature Film
Nominated for Best Original Screenplay
Custom HTML5 website

"Joy"

Nominated for Best Actress in a Leading Role, Best Actress in a Supporting Role
Generic studio template housing a custom HTML5 website with some assets served by Amazon S3

"Last Day of Freedom"

Nominated for Best Documentary Short Subject
Website powered by WordPress

"The Look of Silence"

Nominated for Best Documentary
Website powered by WordPress

"Mad Max: Fury Road"

Winner for Best Costume Design, Best Makeup and Hairstyling, Best Production Design, Best Sound Editing, Best Sound Mixing
Nominated for Best Picture, Best Cinematography, Best Directing, Best Film Editing, Best Visual Effects
Custom HTML5 website with some open-source JavaScript libraries like MediaElement.js

"The Martian"

Nominated for Best Picture, Best Actor in a Leading Role, Best Adapted Screenplay, Best Production Design, Best Sound Editing, Best Sound Mixing, Best Visual Effects
Generic studio template housing a custom HTML5 website with some assets served by Amazon S3

"Mustang"

Nominated for Best Foreign-Language Film
Custom website

"Prologue"

No official website
Nominated for Best Animated Short Film

"Racing Extinction"

Nominated for Best Original Song
Website powered by Squarespace

"The Revenant"

Winner for Best Cinematography, Best Directing, Best Actor in a Leading Role
Nominated for Best Picture, Best Actor in a Supporting Role, Best Costume Design, Best Film Editing, Best Makeup and Hairstyling, Best Production Design, Best Sound Editing, Best Sound Mixing, Best Visual Effects
Custom HTML5 website with some assets served by Amazon S3

"Room"

Winner for Best Actress in a Leading Role
Nominated for Best Picture, Best Adapted Screenplay, Best Directing
Custom website

"Sanjay's Super Team"

pixar.com/short_films/Theatrical-Shorts/sst [NO LONGER ONLINE]
Nominated for Best Animated Short Film
Custom website

"Shaun the Sheep Movie"

Nominated for Best Animated Feature Film
Custom website

"Shok"

shokshortfilm.com (which is getting a lot of traffic right now and frequently offline)
Nominated for Best Live Action Short Film

"Sicario"

sicariofilm.com [NO LONGER ONLINE]
Nominated for Best Cinematography, Best Original Score, Best Sound Editing
Custom website

"Son of Saul"

Winner for Best Foreign-Language Film
Custom HTML5 website

"Spectre"

sonypictures.com/movies/spectre/ [NO LONGER ONLINE]
Winner for Best Original Song
Generic studio template housing a custom website

"Spotlight"

spotlightthefilm.com
Winner for Best Picture, Best Original Screenplay
Nominated for Best Actor in a Supporting Role, Best Actress in a Supporting Role, Best Directing, Best Film Editing
Custom website

"Star Wars: The Force Awakens"

Nominated for Best Film Editing, Best Original Score, Best Sound Editing, Best Sound Mixing, Best Visual Effects
Custom website

"Steve Jobs"

Nominated for Best Actor in a Leading Role, Best Actress in a Supporting Role
Custom website

"Straight Outta Compton"

straightouttacompton.com [NO LONGER ONLINE]
Nominated for Best Original Screenplay
Website powered by Tumblr

"Stutterer"

stuttererfilm.com [NO LONGER ONLINE]
Winner for Best Live Action Short Film
Website powered by Weebly

"Theeb"

Nominated for Best Foreign-Language Film
Website powered by Tumblr

"Trumbo"

Nominated for Best Actor in a Leading Role
Custom website

"A War"

Nominated for Best Foreign-Language Film
Custom website

"We Can't Live Without Cosmos"

No official site
Nominated for Best Animated Short Film

"What Happened, Miss Simone?"

Nominated for Best Documentary
Website powered by Facebook

"When Marnie Was There"

Nominated for Best Animated Feature Film
Website powered by WordPress

"Winter on Fire: Ukraine's Fight for Freedom"

Nominated for Best Documentary
Website powered by Facebook

"World of Tomorrow"

"Youth"

Nominated for Best Original Song
Generic studio template housing a custom HTML5 website

---

For all screenshots, we took an old standard (1024px width by 768px height) and removed the browser chrome to reach a 690px height. We made an animated GIF if video was involved, but not if interactions were required (e.g. closing a lightbox). We truncated some of the loading screens to cut to the chase.