Part of a series of posts about up-and-coming artists, projects or movements across film, web, or design in cinema that go the extra mile for their audience.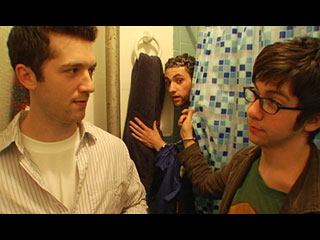 "We Need Girlfriends" is one of the best shows online today. Good writing, regular programming, professional sensibilities and online commiserating bring this independent sitcom to the top of your inbox.
The series follows Tom (Patrick Cohen), Henry (Seth Kirschner) and Rod (Evan Bass): recent college graduates, all dumped by their college girlfriends, and living together in Astoria, New York.
"We Need Girlfriends" embraces its limitations. The series is self-aware and thrives best in poking fun at its niche audience, who know all so well about Facebook feeds, MySpace photos, and the like. In embracing the platform, the filmmakers have not only done the pre-requisite — incorporating independent musicians into its soundtrack — but really engaged its online audience by responding to it. Special episodes include holiday wishes to fans, mid-season bloopers and a clever teaser when the season finale, which went online yesterday, was going to run a couple weeks late. Their official site and MySpace account do their jobs showing the big picture, where YouTube and other video syndications focus on what they do best. Their visual style makes cheap T-shirts look good.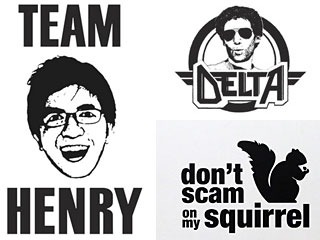 It's got all the ingredients for viral marketing done with the right intentions. Just knowing you can join "Team Henry," friend "Rod" and "Tom," or reply to each episode feels fun. WNG engages its community, who then evangelize it. This show, on its own qualities, feels like the kind of thing you immediately forward to friends (or future boy/girlfriends). They've taken what's good on television and what's unlike so much online: quality entertainment that delivers.
WNG is a project by filmmakers Steven Tsapelas, Angel Acevedo and Brian Amyot and their group, Ragtag Productions. Despite no mainsteam media attention, it's still no surprise that they got signed recently with UTA (United Talent Agency) when some notable bloggers say things like this:
"It's smart, it's genuine — and, oh yeah, hilarious." — Seattle Post-Intelligencer
"It's a funny show. Characters get trapped in all kinds of modern dating problems: MySpace ex-stalking, abnormal parties where people are only allowed to wear blue… bizarre things that anyone in their 20s who lives in an American city has experienced to a certain extent. Funny and realistic. What's better than that?" —

Tilzy.TV

"The HBO of online video… Amazing." — Media, Technology and Rebel Filmmaking
"[WNG] is an online web-series, in my opinion, better than anything on TV these days." — Drive A Faster Car
With 11 episodes in its first 12 months, and each around 5 minutes, you should start from the beginning: