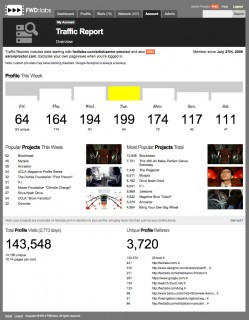 Today we're very excited to release a big update to a feature now for all FWD:labs users: real-time traffic reports to your page and your work. Data analytics have been one of the top requests from our users, and we've made some big changes. Now, everyone has access to real-time data. And, as a special perk for our long-time members, we're also exposing data going back seven years!
Improving upon when we first rolled out this feature, our traffic reports let you see daily unique (x 7 days), daily pageview (x 7 days), total unique, total pageview, total unique referrers, and top referrers. You can also see the ratio of unique to pageview, which shows engagement or — in other words — how many footprints somebody made when they visited. This all enables you to know your content and efforts on FWD:labs help get your name and work out there to a lot of people.
Just like seven years ago, we still use a form of sparklines for graph data, inspired by designer Edward Tufte. This allows you to easily see the flow without piling more than you need on a chart. Unlike seven years ago, we now cache all data except for today's real-time numbers, providing you a super fast experience to see numbers that matter.
And while you may be able to see similar data when using services such as Vimeo and Cinely, what we do is different. At FWD:labs, we provide data for both you website and projects, not video player interactions. Best of all, we're 100% free for all filmmakers at FWD:labs.
Want a little bit more? For our users we pro accounts, we also combine traffic reports for any content of yours on fwdlabs.com included with your custom domain name. This would be impossible with Google Analytics. Pro accounts can also look back through daily legacy data since 2007.
Login and check out your traffic reports. Then, with the time saved and information learned, you can get back to doing what you love: filmmaking.