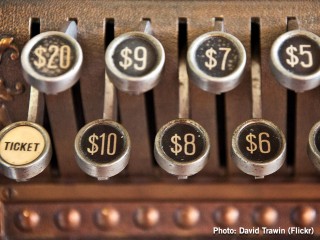 Since the jumpstart to crowdfunding — whether the platform of choice is Kickstarter, Indiegogo, Patreon, Seed & Spark, or the old fashioned way with cash and check — asking for money to produce your project has only become harder. There's more peer competition and funder fatigue from the market being so saturated. That means it's make-or-break to pitch clearly, quickly, and convincingly, especially if it's all sitting online. Even if you're just passing the hat (or flooding the social feed?) with friends and family, it's important to knock it out the park that what you're working on creates value.
At FWD:labs, we have experienced projects that have successfully funded and completely failed. What's clear is that ones with passion, professionalism, and persistence all have a much better chance of reaching or exceeding their goal. There's even research that's been done to show that netting a certain percentage right out of the gate ensures a likelihood of making the goal. This makes the pitch video all the more important.
Instead of putting everything in the video — like who's attached and what equipment you want to use, which all could change by the way — here are some tips for starting short and sweet. Remember, you'll want to send out reminders anyway with your updates, which is the best way to go into more detail and share incremental progress.
Start with the Kickstarter standard, e.g. who you are and what you do — in one sentence. Cut to the chase of what the fundraising is toward, e.g. what you're making — like a logline framed with emotional specs or features. Give a little context to provide legitimacy, e.g. what you've done.
Highlight why you're making this project and how it solves a problem. Mention a competitor or trend that people can relate to, then why the world need you instead (or in addition) to have your project, e.g. "these other kinds of films have X, but we will disrupt all that with Y." Stress the simplicity to help or enjoy the project, e.g. "you don't need to in the industry to help." Provide some context (and visuals for cutaways), e.g. "we're working on X, Y, Z now and A, B, C can start once we're funded."
Share what's unique about the project's values or features, e.g. "we believe in X, Y, and Z" or "we have A, B, and C." Give an example of each of at least three points, which could be illustrated with b-roll.
Briefly discuss the budget in a clear and transparent way, suggesting elaboration on the website body copy. Consider sharing the total goal in an itemized way as to explain and justify the total dollar goal. Perhaps justify why you're crowd-funding versus self-funding.
Incentivize the "give" and connect back to the big picture, e.g. "you're going to get X, Y, Z from investing." Perhaps put together a really cool starter kit, e.g. early bird special only available this time. Connect the reward of investing to a higher value — for people who don't want to just see your project, e.g. "we're setting the stage for [fill in the blank] with this effort."
End with a vision for the future, e.g. "this isn't 'the end,' we're just beginning." Tease the roadmap without dropping dates, e.g. "invest now, here's where we'll go." Leave a sense of urgency and importance, e.g. "we're laying the building blocks for X, Y, Z." And don't forget to tie in the supporter as much as possible to the language, e.g. "we are building….. and you can become a part of that vision" or "with your help, we will all build the future."
Remember to rehearse or bullet point out your script. Give ample care to video and audio quality, perhaps with similar aesthetics to the final project. And aim for three minutes or less.
Once it's published, get the word out. Consider thanking individual donors, either individually or via social media. And don't forget to schedule out some progress to share and remind your fans with project updates that are not all about the Benjamins.
What works for you? Share it in the comments below.