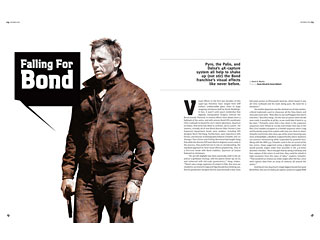 Shooting a DSLR in an remote-controlled helicopter? Aside from the grippage and camera support, the smaller the CMOS sensor, the better. One case where a Canon 7D trumps 5D. It also helps with the weight issue. (via D.I.T. CJ Roy)
Mixing framerates? Conform the minority framerate using Cinema Tools and you're good to go. (via broadcast creative Jeremy Troy)
Ever dealing with a mess of a codec called AVCHD? Use Handbrake to get it into shape, be it M4V or other.
Who designs ICG Magazine? Wes Driver, their art director, does consistently fantastic work. I wish American Cinematographer followed suit. (See page layout above.)
Shooting in, say, a Ferrari 911? Use some modern technology: ARRI PAX and Rosco LitePad. "Rosco on the ceiling of the car for fill and PAX for your key off center front 3/4." (via gaffer Jeff Stewart)
Power outage in your kitchen? No problem. 25ft stinger to a lunchbox for the fridge, toaster, etc. and I'm good to go 'til handyman sets circuit.
Formatting your new 1tb external hard drive from NTFS to Mac OS Extended? In Leopard, select Applications > Utilities > Disk Utility > select the drive > select Partion > Select 1 partition and Mac OS Extended (for non-booting storage of media) (via editor Ken Stone)
Got something to add or a whole new tip entirely? Post it in the comments below.