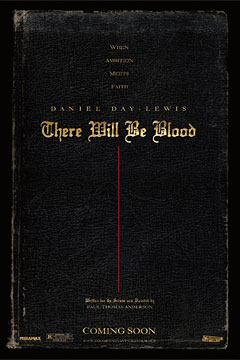 The Academy Award nominee for Magnolia and Boogie Nights, and Best Director winner at Cannes for Punch-Drunk Love, took his chances with teasing There Will Be Blood on YouTube. Viral buzz ensues.
On the Friday in June 2007, director Paul Thomas Anderson uploaded a trailer of his yet-to-be-released film. After a note to Ain't It Cool News, and by one day's time, the tenacity of bypassing studio oversight turned into the "YouTube incident of 2007," notes Anderson in an interview in the Los Angeles Times this weekend:
While editing the movie last summer, Anderson decided to enliven things by cutting a trailer, which he posted on YouTube. The simplicity of the process — not dealing with the studio or the Motion Picture Assn. of America — was "like a filmmaker's fantasy."

"And the studio went nuts," he said, smiling about his mischief.

"We put it up on Friday and I remember they called on Saturday morning at 6 a.m.: 'Do you know there's this thing on YouTube?' I said, 'Yeah, we put it there.' They were like, 'What the hell are you doing? Are you mad?' "

The trailer's warm reception pacified the executives, Anderson said, and ever since "There Will Be Blood" has ridden a wave of good publicity and honors, including a Golden Globe nomination for best drama.
The unique trailer direct from Anderson via YouTube has been seen over 435,500 times:
https://www.youtube.com/watch?v=SYW2ltW5SPo
Two weeks ago, the same "channel" had a midnight movie screening promo to stir up the buzz again for There Will Be Blood.
Meanwhile, the film's studio, Paramount Vantage, "leaked" the screenplay (PDF) in October — two month before the film's release, giving guild members and anyone else a rich-media overview of their projects.
There Will Be Blood started in limited release (read: 2 theaters) on December 26, 2007. On January 4, it went into 51 theaters, abuzz with attention and packing 3pm screenings on days like today.
Also web-savvy: P. T. Anderson fan site, Cigarettes and Red Vines, notes the production had a photo blog site. Today, only an Archive.org copy has a record of littlebostonnews.com before it turned into a trailer jump-page.
(There Will Be Blood poster is by Concept Arts.)