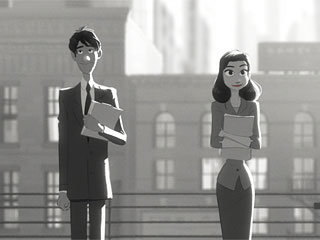 Maybe one day we can have consistent theater-going experiences where a well-crafted short film leads us into the feature — instead of pre-show "entertainment," looping slides, endless trailers, and other uncomplimentary advertisements. Just like the old days, right?
Making the viral rounds nowadays is "Paperman," the Disney short film screening now before "Wreck-It Ralph," which is directed by first-time director John Kahrs. Over two million people saw it on YouTube within the last two days, thanks to a solid marketing strategy that ensured what viewers were watching is what the studio had posted, and not a bootlegged version, where the demand beat the supplier.
https://www.youtube.com/watch?v=aTLySbGoMX0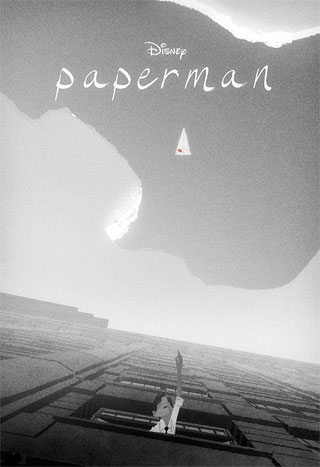 (Check out some behind-the-scenes of "Paperman" at It's Art Magazine for how the film was made. Collider also has an interview with Kahrs on how "[t]hey were looking for things to push technology and fill people's time in that gap between Tangled and Wreck-It Ralph.")
Sometimes called a double feature, a film before the main attraction was popular for studios to do with "B"-grade pictures until 1948 (United States v. Paramount Pictures, Inc.). Short films were included there until the 1950's when someone decided television was taking off and short-form ideas would be better suited there. Since then, attempts with shorts before a feature — and the idea of literally showing two features back-to-back — were made around Disney's Roger Rabbit in the 1980s and "Grindhouse" in 2007, respectively, but neither took off.
One problem might have been excessive studio control. Cut to the late 90's where you add in a commercial element and you've got only one pioneer still experimenting with short films before a movie: Coca-Cola. Between 1998 and 2010, the Coca-Cola "Refreshing Filmmaker's Award" sported 90-second films before some features. The films they proceeded (in just 20,000 test locations) had no choice over what the pre-show was and it's likely the theater (and the awarded filmmaker) only benefitted from the branded content.
Where it has succeeded is when Disney/Pixar and other animation studios include their own, fostered, and top-rate works — starting in 1984 and continuing today. Alternatively, look at how musicians often hand-pick who opens for them on tour. The fans might dig it, or might skip it, but new stories and talent are exposed in very cost-effective way.
Could there be a renaissance of short-form content before features outside the world of festival and revival screenings, or is it forever destined for online and filler for broadcast? Why does it still work for animated films while it's gone by the wayside for feature film presentations?