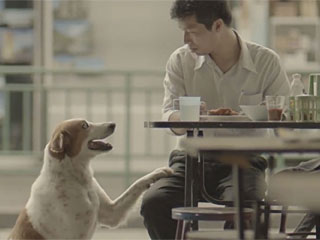 The latest in well-done branded content comes from an unlikely source: Thai Life Insurance. When was the last time you cared to sit through a commercial about life insurance?
"Unsung Hero" breaks through. It's a 3 minute feel-good story advert that pulls at the heartstrings. The effort is part of a transmedia campaign with daily updates called "Thai Good Stories," which is both the whole gist of this insurance company and also the larger effort of their agency, Ogilvy & Mather Bangkok.
In the first two weeks that "Unsung Hero" was online, over 11 million people have seen it via the YouTube release:
The media likes to tout Ogilvy & Mather as the sole credit, but the director of the ad is "Tor" Sornsrivichai, who recently won a Cannes Lions International Advertising Festival Palme d'Or. His company was also cited as the most awarded production house in the world — and Tor as "the most awarded director in the world" — according to The Gunn Report. Here is the breakdown, thanks in part to Jonathan Nguyen [link no longer works], who works at Ogilvy:
Production House: Phenomena
Chief Creative Officer: Korn Tepintarapiraksa
Film Director: Thanonchai "Tor" Sornsriwichai
Senior Copywriter: Rudee Surapongraktrakool
Managing Director: Phawit Chitrakorn
Group Communications Director: Thitima Liangpanich
Communications Manager: Pranpreeya Arunjindatrakul
Communications Manager: Morrakot Rieanthong
Head of Strategic Planning Unit: Vanich Jirasuwankij
Strategic Planning Director: Nuntaporn Laoruangroj
Strategic Planner: Chanya Sutthienkul
Producer Section Manager: Yuthapong Varanukrohchoke
Browsing through Thai Life Insurance's YouTube channel — which has a hefty fifteen thousand subscribers — there are actually many other videos just like "Unsung Hero" done in recent past. Take this one from last year:
3 million views in English. 2 million views in Thai. And the same agency of record: Ogilvy & Mather Bangkok.
There's many more of these sorts of story videos, going consistently all the way back to 2003 … yet they were all uploaded on their YouTube channel in the last month. Here's a link to easily view them within YouTube and here's one called "Everlasting Love" from 2004:
With numbers and strategies like this, why aren't there more story-driven ads for less than glamorous industries?