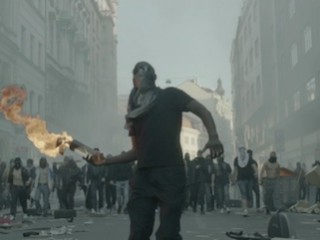 The parallels to socio-political uprising — Greece, Vancouver, Occupy, and others — are welcome in pop music multimedia, but it's woefully ironic in Jay Z & Kanye West "No Church In The Wild." As one-percenters themselves, the video touts glorified, staged violence mirroring recent global headlines. Nevertheless, director Romain Gavras' visuals are captivating and evocative, balancing symbols of power and melodrama. And, during a frame here and a frame there, it looks so close to what we see in the news that it's suddenly frightening because it's a reminder of the here and now.
Molly Lambert at Grantland critiques the video:
[W]e get a video that nudgingly promotes the idea of violent social revolution without specifying what we are revolting against or toward. Is it a commentary on Trayvon Martin? The riots in England last year? Arab Spring? The 20th anniversary of the L.A. riots? Or is it just pure fiction, a spectacle of masculine aggression or a continuation of the postapocalyptic narrative from "Run This Town"? It's all very somber verging on silly, and then there is an elephant at the end to stomp on your head with "Welcome to the Jungle" (you're gonna die) subtext. How does that compute with private listening parties at the Natural History Museum and attendance at the Met Ball? Are you the 1 percent or not? The video is beautiful, and the flaming cop car crashing is a particularly gorgeous image. Any larger points about police states or profiling are blurred into dumb awe at expensive special effects. The riot is glamorized, and you're obviously not rooting for the cops. You can't occupy Wall Street in a Rolls-Royce Corniche with the coke-white interior. HUH?
Kia Makarechi at Huffington Post points out the irony of capitalizing on Occupy:
The Occupy Wall St. parallels seem almost too obvious to mention, though they are of interest because Jay was caught in a public relations scandal when it became known that the "Occupy All Streets" t-shirts his clothing company were selling did not benefit the movement.
Zach Dionne at Vulture notes the lyrical disconnect:
Things become extra odd once Kanye starts vibing about infidelity, throwing cocaine on a female acquaintance's skin, and the availability of taxis at 5 a.m.
All in all, Jessica Sager at Popcrush sees the ebb-and-flow of the action and its entertainment:
The violence continues to escalate as the song goes on, with protestors gaining some temporary advantage as they flip cars and destroy storefronts, but they're soon quashed by more police violence. No one has a clear upper hand in the video, not even at its dramatic albiet anti-climactic conclusion. The motif is a mix of Occupy Wall Street, the London riots, and perhaps a bit of Shakespeare's adage that "Evil begets itself."
"No Church In The Wild" is a timely, controversial video that Gavras and his collaborators have skillfully designed. Does documenting these moments in history in this way belittle the act? It seems that for this to be an effective statement, viewers should walk away with less of a polemic visual and more of a concrete opinion. Jay-Z and Kanye West, who don't appear at all in this video, regularly tackle such questions but this treatment feels forced and intentionally ironic. At the end of the day, it's important to weigh lyrical relevance for music videos while considering the source value. Here, the track has themes of fighting for yourself with no one to save you but yourself. But, by rooting cinematographic stories in real life, we separate ourselves from that real issue and "game-ify" it, distancing ourselves from a real and important issue to question. After all, what are these riots all about and what are we fighting for?
Jay Z & Kanye West "No Church In The Wild"
Director: Romain Gavras
Producer: Mourad Belkeddar
Line Producer: Charlotte Marmion
DP: Mattias Montero
Production Designer: Jan Houllevigue
Storyboard Artist: Simon Duric
Editor: Walter Mauriot
Stylist: Hannah Edwards
Telecine: Simon Bourne at Framestore
Production Company: Iconoclast
Facilitating Production Company: Unit & Sofa Prague
UK Representation: Somesuch & Co.