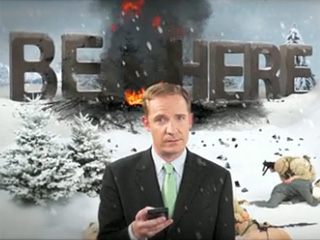 Director Jordan Vogt-Roberts, whose 25-minute short "Successful Alcoholics" premiered at last year's festival, completed four bumpers for Sundance 2011, which ended up not getting any play this year. Instead, officials decided to play the Sundance snowflake logo in front of every single film.
It's commonplace at festivals for these credited, branded bumpers before each program. Some reports suggest these were too edgy. Of the four, "Hollywood Remake" has caught the most buzz online.
[vimeo]http://vimeo.com/18778409[/vimeo]
From Vogt-Robert's blog [UPDATE: link no longer active] post in December 2010:
Sundance asked me to direct the bumpers that play before the films at the festival this year. Lots of pressure to make sure people don't get sick of watching these after the 20th time. I'll post these soon. They're super effects heavy, and I think they're pretty great.
The other three, uploaded two weeks ago, are Swag Hags, Spike, and Flight Attendant.
Earlier today, the Sundance 2011 winners were announced.
(via New York Magazine)