Part of a series of posts about active artists with the tenacity to take their project to completion.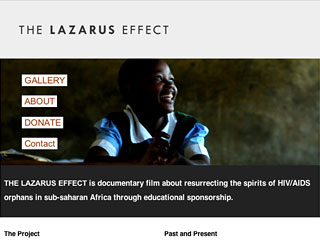 Mathieu Young, a young filmmaker whom I first met by hearing his pitch for an action movie in the Palm Springs desert, went to Kenya in 2005 to take on a documentary, "The Lazarus Effect." The project's site, which began as a way to chronicle the progress of the film but became something much more personal, was highlighted this month on VanityFair.com.
Problem
Before Mathieu left, we met up for drinks at Urth Caffe in Beverly Hills and he told me about last-minute worries for his five-month itinerary. The problem at large was about staying focused on the film, which he was running and gunning on his own, amid the larger challenges of creating a program in Kanga, Kenya to "resurrect the spirits of HIV/AIDS orphans in sub-saharan Africa through educational sponsorship."
Solution
Mathieu was setup to use a small, custom CMS [content management system] to update TheLazarusEffect.org, where he blogged his tour, posted his photographs and used a shaky web connection in the middle of Africa to share his scribbled notes and impressions online.
Encouraged to post every day, the journals became a soul-bearing road map throughout his project. Projects like Yahoo!'s war correspondent site, "Kevin Sites in the Hot Zone," use a similar approach.
The journals, which are no longer the key focus the site, may or may not influence the final film, but succeeded in connecting Mathieu with more than just friends and family: he took care of procrastination and focused on the core belief of his project. His film and his cause benefited from this small but persistent and strategic effort.
Results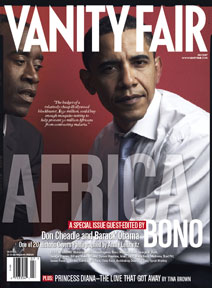 The site got recognition this month at VanityFair.com, as value-added linkage for the July 2007 issue about Africa:
The Lazarus Effect started as a documentary film about the H.I.V./AIDS pandemic in rural Africa, but the project's focus has shifted to helping to start and maintain an innovative pilot program aimed at benefiting people living with the disease.
As a platform, the site directed $5,000 to the cause he ended up highlighting, where visitors PayPal'd after exploring the supporting material on the site. No more than $100 was spent on the web site over three years.
Despite the "live-blogging" phase being the five months in 2005, over 1,000 visitors have explored the site in the last year, spending an average of three-minutes taking it all in, with 40% coming in from search referrals.
What's Next?
"The Lazarus Effect" is almost ready to premiere, while the cause, "The Kanga Project," is ready for a site of its own.
Mathieu is also the new community developer for FWD:labs and will introduce himself in the coming month.