Part of a series of posts about active artists with the tenacity to take their project to completion.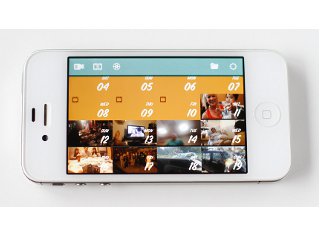 Cesar Kuriyama started out with an idea to archive his life. No 24/7 video feed, no Facebook posts, and no edited reality TV pilot. He simply shot, cut, and uploaded a seemingly random montage of his life, using one second to represent one day for over a year.
[vimeo]http://vimeo.com/37792362[/vimeo]
Just uploaded nine months ago, his video went viral, his talk at TED was well received, and now he's crowd-funding for an app that makes montage a cinch. (Alchemy50, an application design/development studio in Brooklyn, is providing the technical chops, optimizing for iPhone 5.)
What he learned throughout the process is really the best story. Here are some quotes from his front-page'd Reddit and his thorough Kickstarter posting, which — 8 days out from wrapping — is over 200% funded beyond his needs:
Processing Re-evaluation with Video
"I worked in 3D VFX for many many years… in Advertising… Work was basically my life… constant 100 hour work weeks… decided to do something about it… so I saved every penny I could for 2 years so I could quit my job and take a frugal year off from work to re-evaluate what I should do with my life. I made this video in the process."
Limitations of Film vs. Over-Capture of Digital
"Digital Cameras have made it easy to capture our lives, so most people are over doing it. And just because we can, doesn't mean we should. The limitations of rolls of film used to force us to prioritize what was worth capturing & what wasn't. I believe we should record less, & live more. Ruthlessly record only what's most important."
Unintended Benefits
"This project has produced an interesting side-effect: it encourages me to do at least one interesting thing every day."
Constraints Lead to Creativity
"We've run into other strange things that have forced us to change course from the initial plans – a good example of this is that we initially thought we'd be able to use the native camera, but apparently it violates the Apple ToS [terms of service] to have an app launch the camera in Landscape mode, so we ended up having to build our own camera module. Although we believe this will work in our favor long term."
Personal Record vs. Social Record
"I rarely capture the best moment of a day. A lot of the seconds you see are actually from before or after a moment I want to remember, but seeing the moment I did capture still brings me back. Trying to record the perfect second puts too much pressure on myself, and becomes a chore. Wouldn't it be better to fully live an experience, than risk missing it while trying to capture it?"
Hat tip to the multiple points to interact with his crowd-funding effort. There are multiple videos, various photos, and many side stories. Together, along with the content, it's more likely to be successful.