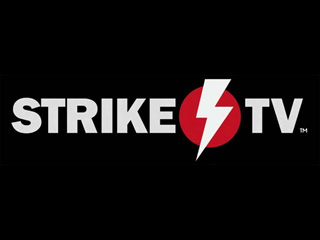 During the 100-day Writers' Strike that ended in February, the idea of an online distribution model for industry screenwriters working outside their contracts to create shows of their own, retaining both copyright and ownership, circulated as negotiations over "new media" went unsettled. The idea drew the interest of the scribes of "How I Met Your Mother," LonelyGirl15, "Star Trek: The Next Generation," "The Office" and many others. And the idea became Strike.TV.
The plan is for a 40-show line-up for this Fall, all professionally made by WGA writers and union crews, yet made independently of studios. The shows will only be online, available for free with a brief pre-roll advertisement.
[vimeo]http://www.vimeo.com/1272858[/vimeo]
Right now, the general public can only see a sizzle reel (above) and some clips on Vimeo. Those able to see beta.strike.tv can view shows within a look-and-feel that follows the lead of Hulu, the industry's tardy but generous response to the demands of online video. Their LiveJournal and Twitter show a slow but steady progress towards some kind of public launch.
Here is an overview of the blogosphere chatter about Strike.TV:
The Manifesto
Strike.TV is the first ever online network created by Hollywood storytellers that brings original, high-quality video entertainment to the world.

Strike.TV is a positive force on the forefront of the changing new media landscape.

We empower professional film and television story-tellers by offering them creative freedom, welcoming them to retain ownership of their material and helping them monetize and distribute their work across the Web.

We empower advertisers by connecting them with Hollywood creative talent.

We are an alternative incubator for studios and networks, as well as a premiere showcase for the clients of talent agencies large and small.

And we embolden audiences by offering them high-quality, original scripted programming they can watch when they want, how they want and where they want.

And we're serving it all up for free.
Preview: Good and Bad of Strike.TV
"Good: The shows are, for the most part, lots of fun. It is particularly good to see that the shows span more than the ubiquitous comedy genre. … Bad: I'm not certain how some of these shows intend to continue with additional episodes. Some seem to have been fun one-off's without much sense of future." — Online Video Reviews blog
Involvement
"To participate in Strike TV you MUST be an active WGA member. But beyond that, we want everybody who is willing and able to take part. If all you've got is a writer friend with a camera and Imovie on your Apple laptop, we still want you to participate." — StrikeTV.org Resource List, a sister site for industry professionals to register profiles
Review: Life in General
"[I]t was instantly more entertaining than anything I'm seeing on my television screen this summer. And even though it's not an original concept, with all the backstage drama in daytime lately, now is the perfect time for a show that deals with the behind the scenes angst of putting on a daily soap. … The show was just under ten minutes and the time flew by. It left me wanting more, which is a good thing." — We Love Soaps blog
Revenue and Independence
"Everyone involved knew that very little money would be generated initially. That is not the point. The point is to learn to create projects independently from the studio system and generate income from new media. The site was launched for less than 10K, not relient upon venture capital but on indiviual creators putting up their own money." — ziboskwitz, "involved with the forming of strike.tv," on Nikki Finke's Deadline Hollywood Daily
Beta Preview
"The site is gorgeous, including some no-click interactions that encourage exploration of the cast and crew while the credits run. … The project makes good use of online social tools, like MySpace, Facebook and Twitter, casting a wide net that should attract an audience quickly." — Blog Schmog
NewTeeVee.com's Interview with Peter Hyoguchi
"What's his secret for getting name talent to work for his little-known, not-yet-launched startup? Hyoguchi credits his encyclopedic knowledge of film — and confidence. His belief is that the more you act like a knowledgeable peer and less like a unworthy fanboy, the more likely big names will be willing to work with you." — NewTeeVee
Variety's Interview with Peter Hyoguchi
"'The content we have ranges from comedy, drama, sci fi, horror, gameshows, soap operas to family films and animation … this is an opportunity for Hollywood professionals to experience and try something new with a very low risk factor.' … Strike TV also will include a blog-like feature that will allow viewers to voice their opinions and criticisms of the content.Strike TV accepts submissions from anyone who is a member of a Hollywood professional guild or union. Down the road, Hyoguchi said he'd like to expand to a nonpro section where aspiring talent can post work and get feedback from industryites." — Variety
Official Blog
"Why not pool all the money we have ($50 in Starbucks gift cards,) find some top-notch professional actors who will work for nothing, set up shop in a parking lot after convincing the security guards that we're the new lienholders on the property, and try to shoot a ten-minute short in two days flat with a crew of three people? 'What are we going to shoot?' 'How about that Daryl From OnCar thing?'" — Ron Corcillo and Russ Carney of America on Daryl from OnCar on the Strike.TV blog
Alongside, Not Underneath, the Studios
"The intention of the independent ventures was never to cut the studios out of the picture. … This is an opportunity to work alongside them rather than underneath them." — Aaron Mendelsohn of Virtual Artists to the San Fernando Business Journal