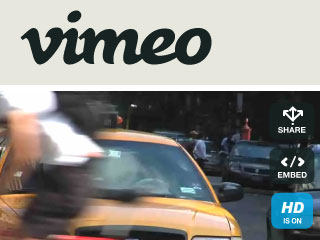 For taking on 1280×720 HD ahead of other social video networks and for reminding people about good video quality (as of this last week *)
For blogging about the benefits and advantages when introducing new features, voiced best on their Staff blog and for not stopping there, shown — not just told — in quick-and-dirty videos
For leading an already vibrant, friendly community with two community directors ("Hi, I'm dalas, and I want to make sure that you have a lot of fun here on Vimeo!" … "What dalas said. Use us!") and for encouraging usage of the site's less-obvious perks with a social "to-do" list ("Comment on five videos" … "Tag a video that isn't yours")
For understanding privacy, like separating personal videos for family/friends from creative ones, and for showing off Activity, like showing what a user likes, tags and comments in real-time
For giving filmmakers peace of mind with Statistics that sort views, likes and comments by day, and for highlighting referrals, which encourages more linking
[vimeo]http://vimeo.com/clip:323839[/vimeo]
* Sadly, embedding the higher-grad video, and losing the Canon ad, aren't yet options.
On a related note, designer Andrew Sloat, whose video was shown at the AIGA Next Conference, chose to put a QuickTime video on his site and share on his Vimeo, too.
[vimeo]http://vimeo.com/clip:341055[/vimeo]
Curious about alternatives to YouTube? Compare Vimeo to other social video networks on our resource matrix.