Part of a series of posts about active artists with the tenacity to take their project to completion.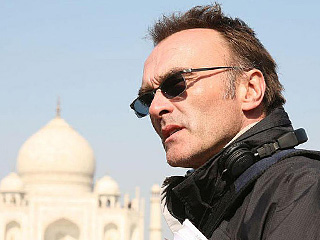 John Horn's article in today's Los Angeles Times on various challenges that faced director Danny Boyle, whose new film comes out in limited release on November 12th:
Some directors would have moved on and made do with what they had in the can. Others might have scouted another location. A few might have called up a special effects house to re-create the palace in a computer. Yet Boyle rarely has followed custom, and the outside-the-box thinking that has yielded his eclectic filmography also helped Boyle and his "Slumdog Millionaire" team conjure up a novel solution — they sent in a fake documentary crew to get the footage.
Anne Thompson's interview for Variety:
Big-budget studio pics are great … for other filmmakers. Danny Boyle thrives when things are lean and focused.

Boyle's challenge — one happily embraced — was to make $15 million look like a whole lot more. "I like that tension," he says. "I don't want to make a dirty indie film struggling with paltry resources. I want to make a film that looks like it cost $50 million or $60 million."

To do that, Boyle jumped into a 12-week shoot on crazy Mumbai locations that changed overnight, deploying a nimble cameraman with a hard drive in a backpack and a gyro with an attached camera lens in his hand.

"It's a different way of grabbing reality and it has an intensity to it," he says. "It lets the mind float off places."
"Slumdog Millionaire," which will surely be an Oscar contender, is currently 100% fresh on Rotten Tomatoes, which links up 14 early reviews. Online, skip past the official site for a Twitter-like microblog for mini reviews, created by Real Pie Media. The official poster was designed by Bemis Balkind.