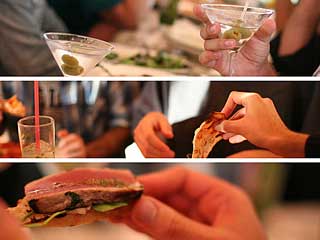 "Muse me: inspiration drawn from foreigning the familiar. … It's a beautiful thing when two people can share a conversation but not a conclusion," noted one of tonight's salon gathering attendees, Tamara Jackson, earlier this year on her blog. Tonight, over cocktails at a bustling bar in Los Angeles, a small and informal group of like-minds — ranging from young masters of the universe to wise men and women dabbling in 2.0 — converged to talk about film, web, design and so much more.
It was always the plan that FWD:labs would have an off-line balance with regular salon gatherings. Uniquely for FWD:labs, this bridges artists in film, web and design working with cinema. Six tenets of these salons, based on the book Creating Customer Evangelists, include:
Continuously gather feedback about our work, our goals and ourselves
Share knowledge freely between those ahead, behind and just plain curious
Build word-of-mouth networks for work or for play
Meet and share with the community beyond your comfort zone, your own rolodex and your own industry
Smaller, bite-sized offerings rather than big, oft-overwhelming extravaganzas
Rally behind a cause, be it FWD:labs or other: it's all welcome
As of tonight, and after a long time on the back burner, it's come full circle. Hardly at all about talking shop, which would have been all too easy, the group included some of the FWD:labs collective as well as some new faces, each of us comfortably stretching from our own social networks with stimulating drinks and intoxicating conversations.
One thing was clear: everyone was enjoying themselves. Tonight will be followed by Salon Gathering #002 and #003, powered by momentum and proximity. In just a few weeks across town, the next stimulant will be Saturday morning coffee at a quiet cafe, before another Friday evening cocktail at a boisterous bar.
Check the calendar for updates, as the time and place will change up to stay fresh.