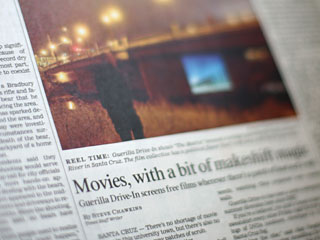 Today, the Los Angeles Times ran a front-page story on the Guerilla Drive-In, a film movement in Santa Cruz, California, that screens films outdoors on a regular basis. The film collective event is "about getting people together to do something very deliberately outside the realm of commerce," says organizer Rico Thunder. They screened The Matrix under a bridge.
Drive-Ins Tonight
San Francisco, California: tonight in a parking lot between 22nd and 23rd on Valencia Street in the Mission, the KFC Collective is presenting several short independent films. The group is all about "reclaiming public space for art, one parking lot at a time." Word spread across Upcoming.org and Laughing Squid.
Los Angeles, California: tonight One Flew Over the Cuckoo's Nest screens at Cinespia, a group which sets up camp at the Hollywood Forever Cemetery. Film-lovers arrive early, shell out $10 but get to bring their wine and cheese and watch the film on the uninhibited grass. Previous packed-lawn films have included Harold and Maude and Fast Times at Ridgemont High.
Brookyln, New York: tonight is Crossing the Line at the Rooftop Films, a community-focused "collective collaboration between filmmakers and festivals, between audience members and artists, between venues and neighborhoods. Our goal is to create a vibrant independent filmmaking community that bridges cultural boundaries. At Rooftop Films, we bring the underground outdoors." Their "Summer Series" trailer is incredible:
Underground Movements
Berkeley, California: Mobmov is the "drive in that drives in," which has free screenings nearly every two weeks. Their manifesto explains what's required to play: projector, marine batteries, inverter, FM transmitter and DVD player. They also outline the legal issues, from copyrights to FCC rules and police. The site has a regurarly updated forum and sign up is easy and helpful, like selecting your nearest city to receive useful e-mail updates.
Simultaneously, in Chicago, New York City, Los Angeles, San Francisco and Oakland, SiCKO was projected on buildings on June 25th, 2007. Of course, the buildings were nearby the health care industry HMOs. Word was passed along on newsgroups and mailing lists.
Going Strong
Outdoor film screenings take the form of festivals, gatherings and just plain alternatives to otherwise anti-social, over-priced megaplexes.
Brooklyn, New York: the Movies With a View series gets the Brooklyn Bridge in the picture with screenings through August 2007.
New York, New York: you can't pass up the Bryant Park Summer Film Festival.
Chicago, Illinois: they've had the free Chicago Outdoor Film Festival since 1999.
Boulder, Colorado: the city known for its outdoor recreation has the Boulder Outdoor Cinema; check out their site especially for the fun Flash animation with cowboys and aliens.
Marin, California: just a stone's throw away from NorCal filmmakers like George Lucas and Francis Ford Coppola, there's the Film Night in the Park through October 2007.
London, England: The Guardian recently reviewed five of the best outdoor film screenings for this summer in Stratford, Devon, Cambridge, London and Yorkshire, but take a look at the courtyard screenings outside London's Somerset House in the Film4 Summer Series, from August 2 to 11, 2007.