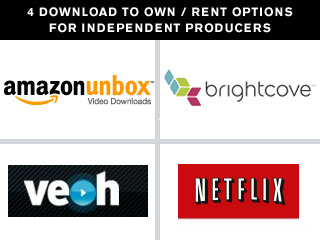 You'd rather watch ads than pay to download-to-own or rent a film or show. Google Video's marketplace for downloads met its demise, announced this last Friday, August 10th. Independent video producers can see this as a major trend for online video distribution.
The cost to watch
Google Video — originally a social video network that became a video search engine once it bought industry-leader YouTube — announced August 10 that it is discontinuing its DTO/DTR (download-to-own/rent) program.
DTO/DTR is becoming a big deal. Several other video networks like Veoh and Brightcove are still in the download business. As a content producer, you can choose if your audience can download or pay to download the ad-free content. Amazon.com's Unbox and Netflix also offer owned and rented content, respectively.
If you can, it's common to provide both: ad-laced to watch on demand, and ad-free to purchase. CBS, ABC, NBC and other major television networks, as well as some other social video networks like Videoegg, allow you to watch some content for free as long as you wait through interstitial ads. The "cost" of waiting is greatly preferred to purchasing. Several fellow filmmakers oft cite that "it's worth it." The networks also have pay-to-download deals with marketplaces like iTunes, which is not yet an option for independent producers.
The Los Angeles Times, which covered the story on August 10, interviewed director/DP Ben Rekhi (IMDb) about his exclusive distribution deal via Google Video in July 2006. His award-winning feature film ended up with 80,000 viewers, but only 300 went on to purchase the $3.99 download. "It was an exciting opportunity and amazing experience to be a pioneer in the digital distribution realm," he said. "But with any new technology, there's going to be a few lambs that get slaughtered. We just happen to be that."
Limits to your purchase
Google Video's downloads use DRM (digital rights management), which in a variety of ways can limit the usage of the download for the consumer. In an e-mail sent out August 10, Google is refunding the amount spent by download-to-own customers or around $5 for download-to-rent customers. Their e-mail noted that "(a)fter August 15, 2007, you will no longer be able to view your purchased or rented videos." Even though you downloaded to "own," ownership is temporary and contingent on the distributor's leash.
One workaround may be to "rename the .gvi files to .avi and load them up in VLC media player (a free and open source media player). They'll play fine in that player," notes Muhammad on the Techcrunch post.
Looking for a win/win
On the surface, the negative buzz compounds anti-DRM sentiments with the threatened trust that's forged whenever you purchase anything online. It can sound just like getting short-term notice that your iTunes Music Store downloads were going to no longer work, and weren't really yours despite your purchase. DRM technology is a win/lose for distributors and customers, respectively.
But was Google Video's distribution model working for you? Nope. Some online commentary, like Charbax on the NewTeeVee post, suggests Google probably has something better in the works, like adding download-to-own/rent to YouTube without DRM.
Food for thought
Would you download higher-res original content on YouTube for a couple bucks? Would people who tag your work as a "favorite" pony up the cash to keep it for good?