Part of a series of posts about free resources from the FWD:labs collective.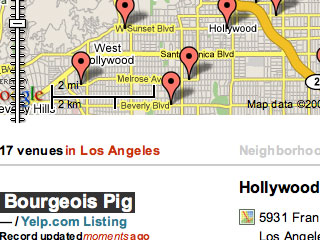 Maybe you're looking to finish your screenplay, check your YouTube comments, or just get drinks after a hard day's work in a artist-savvy space. This public resource on FWDlabs.com is a painkiller for creatives when starting from scratch to try somewhere new.
More specifically, Artist Gathering Venues is a collectively-maintained database to share artist gathering/networking venues around the world, tagged with Wi-Fi (free/paid/no), alcohol (wine/beer/B.Y.O.B./no) and coffee (yes/no) offerings.
To start, there are 27 hand-picked places in the cities where current FWD:labs members live: Los Angeles, New York, and San Francisco. Records are made helpful with links to official sites and Yelp.com, one-click driving directions from Google, Yahoo and MapQuest, and a mash-up of pinpoints via Google Maps.
The resource is for everyone and easily updated by members of FWDlabs.com and readers like you.