Part of a series of posts about the FWD:labs web platform for cinema artists and their work.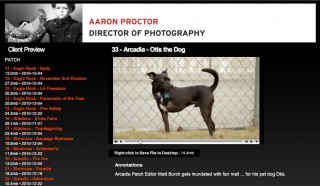 Delivering video content to a client always requires sending files and revisions. You export, you transcode, you upload.
In the past, filmmakers would struggle with HTML and Quicktime codes, uploading multiple files and eating up the clock just to share a private link to their work online. Lately, filmmakers tend to use Vimeo or other branded services, which don't look nearly professional enough as they could for the same price or less.
The cheapest way to deliver the highest quality of media is through a media host like Amazon S3. Many online services use these content delivery networks and/or cloud servers because the upload and download cost is pennies compared to limits and overages billed by normal web hosts. It's also handy when you grow beyond the free or low-cost account limits of Dropbox and the like, but those services aren't nearly simple enough for clients to just watch dailies or rough cuts. They want to just press play, whether it's in Flash for desktop browsing or Quicktime for mobile browsing. Furthermore, services like Dropbox don't allow annotations and Vimeo doesn't allow groups of files to display well together.
Now, with FWD:labs, we've lessened your pain by making this dead-simple.
Whether you upload your files through FWD:labs or use your own independent Amazon S3 account, the two stay in sync like a domino effect. This allows you to use either an FTP client like Transmit or the web interface here on FWDlabs.com and the file appears in both places. Choose your favorite workflow; we've got your back.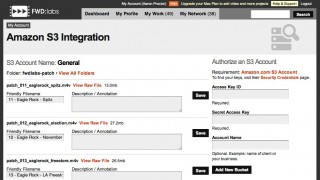 Next, we added a layer of metadata (e.g. adding a friendly filename, annotations below the video, etc.), so your presentation to the client is all the more clear and professional. Instead of seeing "file.m4v" like you would in FTP, you can rename the display title to "Final Motion Graphics – 1/11/2011."
Finally, each client area can have it's own design. Pro accounts here are already white-label, but each folder can have a different look. Maybe you're teaching a class, or collaborating with another artist, or want to use the client's logo on their page, it's all possible with FWD:labs' web app for filmmakers.