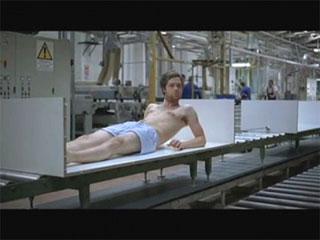 Part of their "Original Creativity" campaign, Canal+ has a history of developing original series, doc, and fiction content in-house, including writer Olivier Marchal ("36 Quai des Orfèvres") and actor Jean-Hugues Anglade ("Léon," "Nikita"). Here's to encouraging the rest of us.
Canal+ "Wardrobe (The Closet)"
Director: Matthijs Van Heijningen
Production Company: Soixan7e Quin5e
Director of Photography: Joost van Gelder
Editor: Jono Griffith
Agency: BETC Euro RSCG, Paris, France
Agency Producer: Isabelle Ménard
Creative Director: Stéphane Xiberras
Creative: Eric Astorgue
Art Director: Eric Astorgue
Copywriter: Jean-Christophe Royer
Account Managers: Raphaël de Andréis, Alexandre George, François Brogi
Post Production: Mikros Images
Sound Production: Kouz Production
Advertising Managers: Beatrice Roux, Mathieu Mazuel, Fleur Ajavon
Original Title: "Le Placard"
Date of First Publication: 9/27/2009
Tagline: For you, we create extraordinary stories.

(via filmmaker Greg Auerbach)