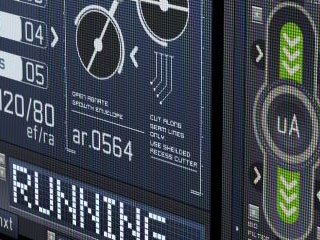 Mark Coleran designs computer screens for the big screen. According to his record on IMDb, some of his work goes uncredited. But from his reputation — be it the colleague who enjoyed sharing her cubicle wall with him or the admirer (and co-initiator of Processing) who shared his thoughts of movie info graphics — you can quickly see why that doesn't matter.
You've seen his work. He has made screen graphics for two of the three Bourne films; he's designed the user interfaces within a Bond film and a Mission:Impossible, too. His showreel (embedded below) keeps a quick pace, but Coleran uses Flickr for us to linger on full-res stills of his work. Image sets include Children of Men, DejaVu, and The Island.
[vimeo]http://www.vimeo.com/1563485[/vimeo]
On Motionographer, where Coleran responds regurarly to questions and comments, he noted his toolset:
Well, sorry to disappoint you, but After Effects is a big part of the toolset.

Design and layout – Illustrator & Photoshop
3D work – Electric Image & Cinema 4D
Animation – After Effects
Post Process – Debabalizer
Playback – Quicktime Master (custom software from Useful Co), Director, Flash
Lately, Coleran has been building a tool of his own: Gridiron Software's soon-to-be-released app called Flow. "We are going to public beta in the next few weeks," Coleran noted in August. Even though it's not released, the tool for creative professionals was an award winner at the 2008 Macworld Expo and the best in show by Videography Magazine at the 2008 NAB Convention. CreativePro.com described Flow as a "next-generation content-management system that automatically records relationships (such as import, export, copy, and paste) between a project's assets and applications." John Nack on Adobe.com blogged back in January that Flow is a big deal because "[a]ll the data collection and versioning is automatic and invisible, which is the only way designers will benefit from it. Creative people want to create, not type in metadata, fill out timesheets, etc. … The beauty of Flow is that it's like an airbag — unobtrusive unless and until you need it."
Coleran, whose background is in graphic design and motion graphics, elaborated further about getting into visual design for film and television:
I guess a combo of interest, preparation and opportunity. If your into, create something along that vein and then hit the people who do this. There is a high burnout rate in this work, for many reasons. When working, it can be very intense, then when not working, the gaps can be just as difficult. For those reasons alone there are continous opportunities opening up. Just do a bit of research on the playback companies.

In the next few months I will be starting a blog dedicated to this subject. Looking at the work done, who's doing it and how, so keep your eyes open.
(via David Stripinis' Twitter)