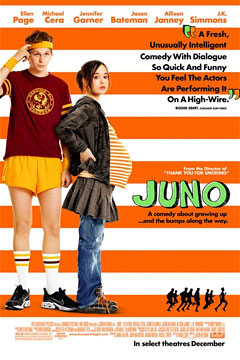 Overheard tonight after a packed screening of Juno, the little film that's generating a lot of Oscar buzz for being a diamond in the rough, a throw-back to unpredictable and smart storytelling. Diablo Cody, ex-stripper and blogger from the Midwest, penned Juno, her first spec screenplay.
New York Times praises the script's epicenter:
"The movie has all the hallmarks of an art-house film — endlessly quirky dialogue with a soundtrack to match — but contains an old-fashioned moral center. At a time when many films about teenagers are a mess of machinations and hookups, Juno ends in a very tender hug."
Variety, back on November 1, explores Cody's need to blog:
"It's self-publishing. You don't have to worry about some donkey in New York sending a letter: 'This doesn't serve our needs at this time.' Instead you start getting fans, validation and the next thing you know, you have a book deal. I never received a rejection letter, never submitted anything in my life."
Cody's blog got noticed by a talent manager, who eventually got it to Jason Reitman (Thank You for Smoking), who directed Juno.
Los Angeles Times speaks to her goals to rock the strong roles:
"I have a responsibility to write strong female characters. I'm going to continue to do it."