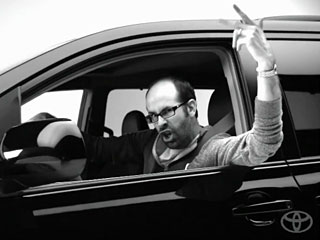 Toyota's latest commercial campaign ups the ante to sell the minivan as an object of desire, not just necessity, by emulating a hip-hop video. It's hard to imagine behavior like this getting anything but laughs in reality, but will this peddle minivans? I betcha it puts a demographic or two over the fence.
"Swagger's" director, Jody Hill, is behind HBO's "Eastbound & Down" and the film, "Observe and Report." His story is pretty empowering: after starting as a PA in Los Angeles with dreams of directing, he left town where he had better opportunity to do his own work, starting with "The Foot Fist Way." Success with the feature reached Will Ferrell and Seth Rogen, who brought Hill back, now above the line.
Complete with extra videos on YouTube [NO LONGER AVAILABLE], the self-described "self-absorbed" couple is the center of this campaign from Saatchi & Saatchi Los Angeles. The microsite [NO LONGER AVAILABLE] plays along by offering up the MP3:
With lyrics like "Where my kids at? / No, seriously honey, where are the kids? / They're right there, see? / Oh, cool beans," it's nice to see the recall-ridden company having fun improving its image.

Toyota "Swagger Wagon"
Actors: Brian Huskey, Rachel Drummond
Agency: Saatchi & Saatchi, Los Angeles
Client: Toyota
Executive Creative Director: Mike McKay
Director: Jody Hill
Creative Director: Erich Funke
Production Company: Caviar Content
Associate Creative Director: Donnell Johnson
Copywriter: Donnell Johnson, David J. Evans V
Art Director: Stephan Baik
Director of Integrated Production: Tanya LeSieur
Director of Multimedia: Tanya LeSieur
Broadcast Producer: Karena Dacker, Gil DeCuir
Senior Integrated Producer: David J. Evans V
Executive Producer: Michael Sagol
Producer: Jasper Thomlinson
Editing Company: Butcher Edit
Executive Producer: Rob Van
Editor: Teddy Gersten
Assistant Editor: Amanda Elliot
Music: Black Iris
Mix Company: POP Sound
Mixer: Peter Rincon
Telecine Company: CO3
Telecine: Siggy Ferstl
Online Company: Butcher Edit
Online: Ben Looram
(via Mickey Finnegan)