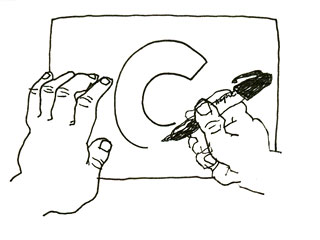 David Hudson's midnight post on GreenCine Daily, a DVD review blog from the online DVD rent-by-mail service, tipped me off to a new web site for the Criterion Collection.
There on the home page, you'll find a video introduction utilizing the handiwork of New York City artist Jason Polan. Noted most for his illustrations, he has two short films — How to Draw a Giraffe (watch below) and How to Draw an Apatosaurus — and a lot of other artwork like the self-published The Every Piece Of Art in The Museum Of Modern Art Book. (The book was originally a pitch to work at the museum — sporting an ITOYA 0.6 pen instead — as you can hear in the 30-minute podcast interview on Art a Go Go.)
Wholphin, a quarterly DVD magazine of unseen films, picked up a portion of Polan's 2007 short, How to Draw a Giraffe, which you can watch online. He collaborated with Meredith Zielke. In the liner notes, he simply says "I like drawing giraffes and I wanted to share this experience with other people."
With the thickness of the pen, you're working with the constraint to create simple, recognizable iconography. 37signals, who prefers Sharpies for storyboarding web sites, also posted today with "Jason Polan explains with a sharpie." They picked up on one of three videos for the State Bar of Texas. The Fire Ant Gazette of Midland, Texas has a longer interview about the videos.
Polan also has a daily illustration blog, Every Person in New York. In May, he told the New York Post about this challenge to himself. "I might never finish, but that's OK. … I'm coming from the Midwest. It's different living here. I'm trying to make [New York] more palatable, more welcoming." For New Yorkers, Jason Kottke posted a note that "if you'd like to be drawn, drop him a line on where you'll be, and he'll show up and sketch you." He's got a sweet calling card.
It gets even more interactive. Amid his countless drawings and murals, he's got One Hour of Art for sale. "I will make what I can in one hour and then I will send it to you." If you haven't seen his work in the New Yorker, you can catch his other blog — now archived — called The Drawing Project.
This on-the-fly animation has worked well for CommonCraft "Plain English" videos, from Social Media in Plain English to Zombies in Plain English. In 2007, there were a dozen UPS Whiteboard ads.