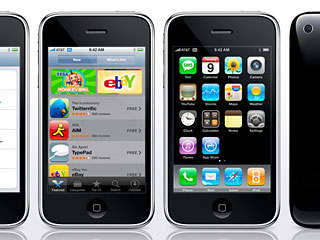 Updated: August 7, 2009
The Apple iPhone, which just came out with a new iteration last Thursday, is the latest mobile platform for filmmakers. And no matter what David Lynch says about it, the latest geek chic is not just for calling people, browsing online, or watching movies: it can help the workflow on set, in post, and that's just the beginning.
iPhone Apps
The iPhone, and the phone-less iPod Touch, are still new, expensive, and sometimes can mean standing in a line for hours this last weekend. But mobile is an emerging market (even Spike Lee is hot on mobile film) and Apple is making it easy to develop, share and sell small applications than other mobile or PDA devices.
In tandem with the new hardware, Apple released a new area of its online store for downloading free or low-cost applications, made by users themselves. Scott Simmons of The Editblog posted his hopes for post-production applications, from a timecode calculator to a post-specific footage/storage calculator. Jon Chappell of Digital Rebellion, which hosts several web-based applications for filmmakers (originally listed below), also asked for more filmmaker apps. As for now, due in part to Apple's process to grant licenses to individuals to their Developer Program, there is only one:
Utilities
iPhone Web Apps
Prior to the iPhone App Store, Apple has been providing user-generated web applications (explanation) a listing in their directory. They also explain how to build one yourself, to then submit and share. All of the web apps below are free.
Paul Harill at Self-Reliant Film posted an initial list. We've swapped a few and added a few, ready for production or post-production:
Calculate
Aspect Ratio Calculator

(mobile version) by Digital Rebellion LLC (12/2007)

Depth of Field Calculator

(mobile version) by Digital Rebellion LLC (1/2008)

Depth of Field Calculator

by Viewpoint Photography (1/2008)

Footage Calculator

(mobile version) by Digital Rebellion LLC (12/2007)

Film Rate Calculator

(mobile version) by Digital Rebellion LLC (12/2007)

Lens Angle Calculator

(mobile version) by Digital Rebellion LLC (4/2008)
Pixel Aspect Ratio Calculator (mobile version) by Digital Rebellion LLC

Power Load Calculator

(mobile version) by Digital Rebellion LLC (7/2008)
Weather
Stormchaser Cloud Reference Chart

by Crossgates AC (6/2008)

Sunrise & Sunset

by Piet Jonas (7/2008)
Also:

see all Weather web apps

on Apple.com
What's Ahead
Penguin at the Ninja vs Penguin blog, who cites a recent Wired Magazine article on Google's upcoming move in the open-source software arena to free up the mobile market, calls out to filmmakers to be pioneers:
"We need to understand where technology is bringing us and learn from what business and other content creators are doing with it. Yes we'll make mistakes, but we make plenty already with our films."