[vimeo]http://vimeo.com/17535548[/vimeo]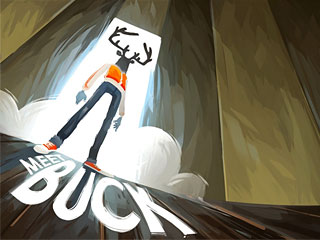 After their acclaim with "Salesman Pete and The Amazing Stone," just in time for the holiday is "Meet Buck," another graduate student film from a group of French filmmakers, the Bouyer brothers. Both works make quite a compelling sales pitch for all of them to land jobs out of school, if not on more of this style. "Insane aesthetic and fantastic animation. Great job…. you talented #@$&ers," notes animator David Badgerow.
"Meet Buck" Synopsis
Buck is an ordinary guy. Well…if you except the "deer head" thing. And today, Buck is gonna spend this cool Sunday afternoon with his girlfriend who's so happy to see him (she's pretty much always happy). But when Buck find out that her father is not the sympathic and tolerant guy he expected, the Sunday afternoon turns really bad.
"Meet Buck" Credits
Denis Bouyer – Directing / Matte-Painting / Compositing
Yann de Preval – Directing / Character Design / Animation
Vincent e Sousa – Technical Director / Rigging / Compositing
Laurent Monneron – FX / Environment Modeling / Dynamics
Yannis Dumoutiers – Music
Julien Begault – Sound Design
Check out their rigging demo for more about how the salesmen were made, plus their blog.
"Salesman Pete" Credits
Marc Bouyer – Character Design / Animation / Compositing / FX
Max Loubaresse – Layout / Animation / Compositing / FX
Anthony Vivien – Color Key / Environments / Camera Mapping / Surfacing
Cyrille Marchesseau – Music
Mael Vignaux – Sound Design