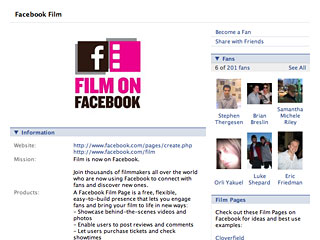 Today, social networking leviathan Facebook introduced "Film on Facebook," along with "Music on Facebook." Both are a hyped-up "Page," their term for a profile about your brands or businesses, which has been around for a while. However, both efforts have a few adjustments relevant to each crowd.
Adding Your Film
When you log into Facebook, you can create a Page. Under "Brand or Product," select "Film." There, you'll have a "Page Manager" or "Ads and Pages" application. This "Page" you're creating on Facebook for your film will be a way to now visualize, message, post to, and push over updates to your audience.
Specific to the Film page, basic information collects the release date, genre, and studio. A detailed view asks for the website, stars, screenwriter, director, producer, awards, and plot outline. "Discussion Boards" and "Reviews" are other applications immediately available for your Film page, along with "Music Player" and "Movie Tickets and Times" (powered by Fandando).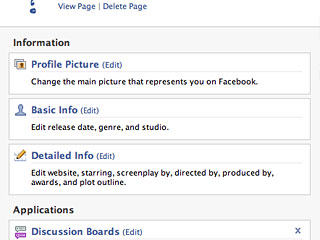 You can also pimp the film's profile with everything else familiar on Facebook today: videos, photos, events, notes, wall postings, and any third-party application like "Movie Theater," where fans can also "favorite" films or "gift" them to their friends.
Examples
Toted examples of films using Pages, says the Film On Facebook page:
…and studios: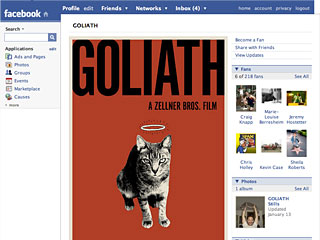 …and Sundance 2008 films:
Coverage on ReadWriteWeb goes into further detail about how movie marketing is already commonplace on MySpace. Mint Communications blogged about how MySpace often previews film clips for new releases; this doesn't appear to compete with Facebook's approach. And VentureBeat noted Facebook's broader move as a media platform and mentioned the upcoming talk at SXSW — a huge festival for film and music — with the "head of market development in entertainment," Matt Jacobsen.
Social Promotion
Pages are tied hand-in-hand with Facebook's Social Ads network, as a reminder of one way to drive click-traffic to the page. Buying ads is per click or per impression, and targeted to specific demographics. For example, if the demo for your film was women under thirty in Los Angeles, your ad will show up on the side of some of their Facebook visits. You set a price per day, pay by credit card, and bid on the click-through value of your audience from a penny on up.
An alternative D.I.Y. approach to finding your Facebook Film page is when you search Facebook.com. Aside from searching people's profiles, it searches Pages. When you click to the Film of choice, you can comment on the page's "wall" or "fan" it. Being a fan of a film adds a box to your profile, and pushes fresh "mini-feed" content from the film's page to the subscribed user when you log in. Your film's fans are passively evangelizing your film, in exchange for subscribing to updates and showing support.
Unlike normal Facebook profiles, Pages have graphs of pageviews and counts of fans over time, so you can audit the effectiveness of marketing.