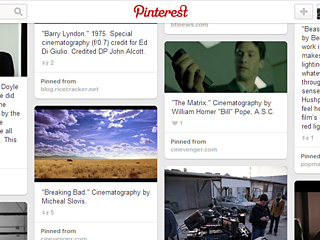 The digital bulletin board called Pinterest has flourished for a lot of generalists (e.g. foodies, fashionistas, et cetera), but I've found a few ways it can work well for filmmakers.
1. Mood Boards
When I don't have the luxury of face-to-face production meetings, explaining ideas in e-mails, documents, or even PDFs can be cumbersome. Instead, I've made either public or hidden "boards" to build off a single link. I'll then either upload or curate image-based content that exemplifies a visual style or color palette for jobs where I direct the photography. I can easily invite the production keys to review the link, comment on the looks, or even add to it themselves.
For one project which used a board called "How the Moon Made Me," I tried out Pinterest as a collaborative film production tool with singer/songwriter Lucia Comnes:
In making my music video with Aaron, I relied heavily on Pinterest to communicate visual ideas online. When team members live in different cities or can't be together in the same room for all that brainstorming and visualization meetings, a tool like Pinterest makes collaborating possible. It's also so much easier to find visual references online rather than in print, so Pinterest gives you that digital bulletin board or mood board you normally had to create out of paper.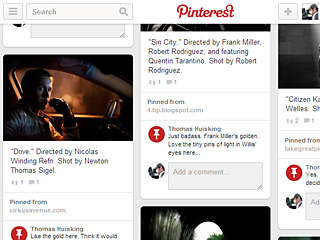 For another project that used a board called Mood board for a Short Film Inspired by a Comic Book, I sent a few still frames over to illustrate some visual styles over to the project's director, Thomas Faustin Huisking:
While prepping for the short film, "Poor Joey," Aaron and I were trying to coordinate the look of the piece. We live on opposite sides of Los Angeles and there wasn't enough time to meet repeatedly prior to shooting. Aaron mentioned Pinterest; I checked it out. I had described wanting a contrast-y, almost graphic novel look for parts of the film, "like when Calvin (from Calvin and Hobbes) imagines himself as an adult." Aaron was able to effectively grab stills and looks from multiple films and other art in order to build a suitable mood board for the film. In that way we were able to decide long-distance on cyan and straw as opposing light color sources, which ultimately played a huge role in the final look of Poor Joey.
2. Social Bookmarking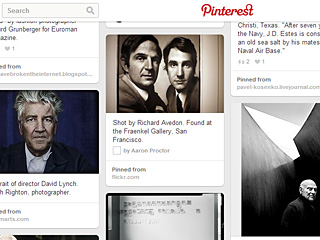 While Facebook just rolled out their "Saved" feature this week, and I've been a proponent of Delicious for years, I've found more interaction with content I've shared on a public Pinterest board. It's also fairly easy to search, which is hit-and-miss sometimes with social networks… (looking at you, Instagram, Tumblr, and Facebook).
Every artist likes to be credited. Unlike most users on Pinterest, who have no requirement to be so formal (or ethical?), if I have the time I'll take the time to correctly annotate and attribute the link, picking the best and most official source for the image that I can find. Here are some that I've enjoyed curating, to benefit others besides myself:
Tip: When I come across something that's been shared to infinity and beyond, I'll jump over to Google Images and do a search based on that image itself — either the image file or it's URL. I'll then often fine it points me to the best and/or original source, rather than somebody's Tumblr or other attribution-less service.
Other boards that provide a useful, visual reference:
3. Brands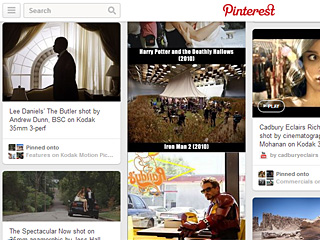 Much like other social media, many brands have a presence on Pinterest. For example, Kodak heavily uses Pinterest to highlight trailers, films, and articles from their online magazine — all, of course, shot on Kodak film.
I think this is helpful to filmmakers. It turns web content into a visual repository that's linkable unlike Instagram and infinitely scrollable unlike most websites. However, on the flip side since no social network is perfect: the image resolution is limiting, the click-thrus require a double-click, and all of the visual content is ripe for being re-shared without attribution nor linkage.
Other active brands:
4. Other Filmmakers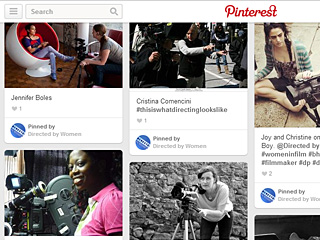 Looking for other avid Pinterest users for inspiration on starting your own? I've come across several other filmmakers who use Pinterest for professional promotion, reference, and connecting. Here are some of my favorites of who to follow on Pinterest for professional pins:
Or perhaps you're selling your style and personality. Here are some projects and people to follow on Pinterest that rock their full identity:
Recap
Pinterest is a mostly public, generalist social network. It's not for everyone, especially it's visual-geared design. However, the ease of browsing and simplicity of uploading make it a player to consider for filmmaking productions.
Additionally, in terms of self-promotion for your own projects, adding stills and other visuals can be set up to link to your website. While it doesn't give an SEO boost (due to a rel="nofollow" tag in the link), it does boost incoming traffic to your site if people click the linked image for more. Furthermore, captions can have visible links as well that are automatically clickable when typed.
Like many of these start-ups, Pinterest grows in unusual ways. Originally, you could only have a few private boards, but recent upgrades have removed the cap on the number of private boards a user can have. This helps for confidential projects since this social network operates under a opt-out / follow-all paradigm. In other words, every public board is broadcast to every single follower, unless they manually opt out of either the board or the follow.
What are your thoughts on Pinterest? And any favorite links to recommend?