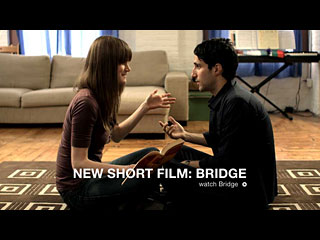 Hillman Curtis, resourceful trailblazer and playful maestro of online film and online design, has a new short film you have to experience.
Bridge, embedded below, "follows two friends as they move toward a discovery." Blow Up, Roof and Embrace (2008 Webby nominee for online video) are just a few of his several other short films. Each beautifully photographed film explores a similar structure: you're in the middle of a moment, observing the relationship, expression, and voice of the actors.
Curtis also has "artist series" films, whose subjects include filmmaker Mark Romanek and designer David Carson. His commercial clients include SVA (School of Visual Arts) and Adobe. Curtis' environmental portrait works to provide a more intimate, authentic narrative.
When he's not leading the creative direction of his Brooklyn-based company with sites like Metropolitain Opera and Yahoo, or cinema-savvy gigs like FoxSearchlight Pictures and Paramount Vantage Films, he also writes about design. His four books are all about new media and are quite highly regarded.
Asked in a 2002 interview on Sitepoint.com of the key message in one of his books, "MTIV: Process, Inspiration and Practice for the New Media Designer," Curtis touches upon the creativity of a collective mindset:
"I wanted to consider the inclusivity of inspiration… the way we as creatives share and borrow and build upon the ideas of those around us, and those who came before us."
In 2005, "Hillman Curtis on Creating Short Films for the Web" offered inspiration, instruction and personal touch to the early birds dabbling in online film. Since all have changed in the last three years, the evergreen quality is his approach, noted simply on the book jacket:
"Hillman explains how his flexible, often spontaneous filmmaking style is guided by certain principles–the value of leaving room for serendipity, the freedom found within self-imposed limitations, the importance of collaborating with others, and the possibilities for discovery and revision when reacting to unforeseen accidents."
(via Motionographer)