https://www.youtube.com/watch?v=idirX-fZLD4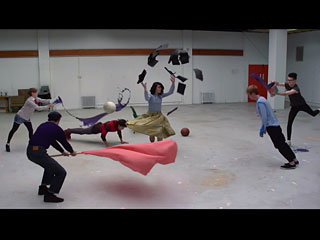 Is it an ad or the future of music videos? Leave it to the Antville.org music video community to argue semantics, but Crystal Castles' track "Air War" has a ticket to the big time in a new Toshiba ad.
The spot was directed by Grey, London and Hungry Man's Mitch Stratten, edited by Christophe Williams at The Whitehouse and posted at The Mill.
Shot with 200 Toshiba Gigashot HD cameras (each just about $1,600), this "Timesculpture" takes the "Bullet-Time" effect ala "The Matrix" quite a bit further. According to the press release, and called out by tech blog Gizmodo or Engadget, this technique of "viewing looping action in 360 degrees has never been done before."
The $4.6 million dollar spot posted online today and comes with a behind-the-scenes video to see how it all came together. This nouveau music video for "Air War" is currently airing in Europe.
You can see Stratten's reel and another video for Nodern, at ohdiamonddiamondthoulittleknowestthemischiefthouhastdone.net.