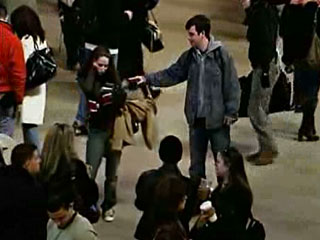 207 "agents" of Improve Everywhere recently stopped in their tracks at Grand Central Station, pulling off an afternoon stunt for five minutes. The viral video, posted today on YouTube, is on fire.
"Over 500,000 people rush through Grand Central every day, but today, things slowed down just a bit as commuters and tourists alike stopped to notice what was happening around them," notes their press release.
Agents chose five-minute kissing, "bunny ears" photographing, paper dropping, shoe tying, and map looking.
Of the stunt, one police officer said, "That is the craziest shit I've ever seen in my life, and I'm a cop!"
Past flash mobs have included no pants 2k8, no shirts at Abercombie and Fitch, slo-mo at Home Depot, and cell phone symphony.
Related coverage: Gothamist, Gawker
(via CPluv)