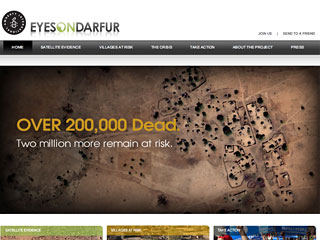 Think about the under-popularized satellite photos of genocide: that is where film is headed. Feel the sense of community through the under-appreciated moving images of film festival favorites: this is the web's new digs. Flip traditional media around with under-read transparencies on social issues: this is how design is communicating new kinds of excitement. In some cases, film, web and design in cinema creates social advocacy, a conscious push emphasized here throughout FWD:labs.
Here are four degrees of social advocacy that can make the Washington Post, win Webby Awards and get friended on YouTube. They all relate to one another, one way or another, and definitely drink the same Kool-Aid:
The site — a collaboration between Amnesty International and the American Association for the Advancement of Science (AAAS) — launched on June 6, 2007 with a bold approach, centered around satellite-image monitoring of atrocities in Darfur. Visitors can compare before and after photos, learn more about the conflict and the environment, as well as easily sign petitions and send the site virally by e-mail or social network. In the Washington Post's coverage, Mona Younis, director of the Science and Human Rights Program at the AAAS, noted how "[this] initiative is an example of how science and technology can be applied to expose human rights violations." The site is designed by Citizen Group.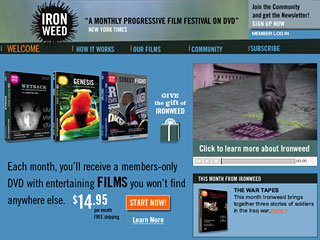 Ironweed pays independent filmmakers for DVD distribution with their film club. Filmmakers can submit their films to their office in San Francisco for consideration. Ironweed also encourages public screenings of their films "with anyone, anywhere: cafes, living rooms, libraries, communal centers, classrooms and even small theaters." The web site, designed by Citizen Group and powered by the Drupal CMS, which provides their members with blogs, profiles and messaging. In the April 2007 issue of Good Magazine, Ironweed Films was included in their Marketplace column: "It's like having someone sending you the best products of all the film festivals you don't have the time or money to attend."
Good is the kind of magazine you really look forward to reading. One noteworthy subscriber blog'd her satisfaction on Have Fun – Do Good: "(t)he photos from the Border Film Project taken by migrants and minutemen were pretty cool, I appreciated the 8-page visual guide to the midterm elections, and the No Senator Left Behind chart comparing US Senators' educational background and salary with the average person's educational background was fascinating."
Good Magazine also has regular video presentations, including "Nuclear Weapons Transparency" (embedded above) and "How the Government Spends Your Tax Dollars." Their YouTube channel has over 850 subscribers. Their site is branded and built by Area17; Al Gore Jr. is an associate publisher of the magazine.
Current.TV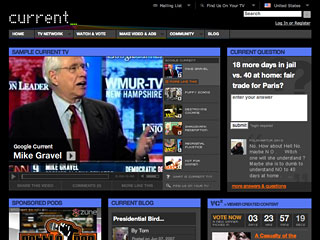 Ex-vice president Al Gore's pet project, Current TV, just won a 2007 Webby Award. "Current is a global television network that gives you the opportunity to create and influence what airs on TV." This network — broadcaster of pod-like user-generated video content that goes from online voting through to cable television — is a key player in interactive television, alongside Joost and Apple TV, notes a film student from UC Santa Cruz. At the 2007 Webby Awards, other film-related web site nominations included:
2007 Webby Awards – Television
2007 Webby Awards – Film