Update (06/2012): Filtr is now offline.
Update (07/07): Since this was first posted, Filtr is now a registration-required publication.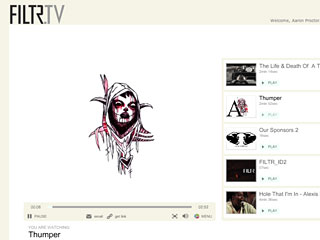 Filtr.tv, described as "a way for serious artists to reach new audiences and for those audiences to be rewarded with great art," is a Brightcove-based video publication that plans to roll out weekly play-lists. Films are hand-picked, shown in a small series like a film festival for each "issue" of Filtr, and filmmakers are given brief profiles just like contributors in a magazine. Their first edition is up at Filtr.tv.
"[It's] interesting. Different. Which is nice. A video site that just sort of takes you on a series of little journeys. … I love the way they talk about it … feels like it has a genuine point of view. I like the stuff that has a note of humble to it as well, which this does," notes Simon Law on a blog post about Filtr. Law is a group planning director of WCRS and veteran of Goodby, Silverstein & Partners.
As a reminder, Goodby, Silverstein & Partners is the agency that created the Budweiser lizards, that handled Saturn and Isuzu for years, that created that fantastic Hewlett-Packard spot of a few years ago with people in picture frames, that consistently is considered one of the best creative shops in the world–and, not coincidentally, was named Agency of the Year in 2006 by both Creativity and Adweek, an honor it has won several times.
Flickr.tv has a five-person staff for "filtering" a selection of decidedly good short films, music videos and animations. Founded by Sheila Y. Shidnia, a young musician, "the staff, comprised of creative professionals, handpicks the content for this artist-friendly station…so no hacks allowed," notes Creativity Magazine in their weekly e-mailer.
With complimentary aspirations, Filtr.tv has editor-picked artists with their best film (as streams) and a brief profile, whereas FWDlabs.com has artist-invited artists with their best projects (as micro-sites) and their own comprehensive professional profile. We hope some of the films here will filter into their next issue.
Thanks to Jack Feuer, former ADWEEK national news editor and current Mediapost.com columnist, for contributing.