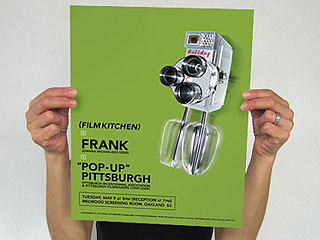 Last Tuesday, March 11, and for many second-Tuesdays of the month, Pennsylvania has Film Kitchen. For about $4 at the Melwood Screening Room, attendees experience a eclectic screening of shorts or features. Submissions are open to all, but the gathering is curated by Bill O'Driscoll, writer for the Pittsburg City Paper, who co-sponsors the event.
I found out about Film Kitchen thanks to designer Brett Yasko, whose work appeared in Communication Arts in December 2006. "Bill O'Driscoll has simple directions for these posters for his monthly screening: 'Try to have a reference to film. Or have a reference to a kitchen. And make sure everything is spelled correctly.' … Occasionally there's a theme. This one was 'appliances.'" Yasko is a Pittsburg-based designer and adjunct faculty member of Carnegie Mellon University's School of Design.
The posters are silk-screened and color inkjet prints of various sizes, sometimes with "the text printed on stickers which were applied by hand." 6 posters for Film Kitchen are on display at Yasko's web site.
Beer and sandwiches are often donated by local sponsors, as noted in 2006 by one blogger on the highs and lows, perks and praises of the events. Incentives might push fringe newcomers but, in a world of buttered popcorn and syrup'd soft-drinks, certainly makes the audience feel right at home.
With simple expectations, these monthly meet-ups whet one's appetite for avant-garde and independent cinema in the format of a year-round film festival. Like events in Los Angeles like the Downtown Art Walk (second Thursday afternoon-cum-evening), or events worldwide like likemind (once-a-month Friday morning), you can pass on berating yourself for missing one and vow instead to catch the next. Through this kind of continuity over the years, Film Kitchen provides a reoccurring opportunity to foster a society for local film-goers. It shares in the spirit of regional cinema while thriving as one community, one city, and in one venue.