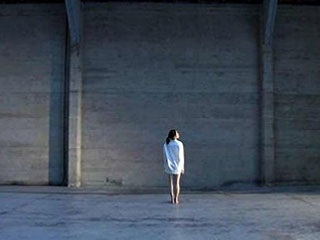 On Friday, YouTube premiered its first full-length studio feature, the Wayne Wang film from Magnolia Pictures, "The Princess of Nebraska." The film is a companion feature to "A Thousand Years of Good Prayers," which screened in theaters last month.
In today's New York Times, critic A.O. Scott touched upon viewership:
[Within three days,] the film had attracted more than 140,000 views, which is a larger audience than it would have found in a limited art-house release in New York and Los Angeles. (And the film is not notably worse than what you might see in those theaters.) Whether all those views reflect people watching until the end is hard to know, but some of their reactions are collected in comments on the site, ranging from thoughtful analyses to 'THIS HAS NOTHING AT ALL TO DO WITH NEBRASKA.'
According to the Associated Press, Wang finished "Thousand Years" under-budget and "just went ahead and did" his next feature:
The film was made quickly with digital video and was "shot like a jazz riff," Wang says. It's hard enough getting one foreign language film into theatres, let alone two – so the opportunities for "Princess" in the U.S. were few.

"When the idea came up, I said, 'Well, that makes sense' – even though I didn't intentionally make it for that," said Wang, referring to YouTube. "The film is very much inspired by new media, by watching a lot of things on the Web and YouTube stuff."
Wang told his local paper, The San Francisco Chronicle, how he likens his approach to music. "It's a whole new alternative source. … Like in music. You know, Radiohead and Neil Young released new albums, they were all on the Internet for free first, and they were very successful."
TIME Magazine spoke with Magnolia Pictures' Ray Price on the challenge of marketing two films, acknowledging the lackluster ticket sales for "Grindhouse," the Robert Rodriguez/Quentin Tarantino double feature. "People don't want to watch double bills, and it forced us to be innovative … we wanted these films to have a concurrent release, but at the same time we wanted to be smart about defining success."
Free distribution of a $200,000 feature isn't too new anymore. The Wall Street Journal noted the other avenues of debuting a feature online, including Pete Schuermann's feature "Haze" on SnagFilms.com and David Modigliani's feature "Crawford" on Hulu.com. WSJ columnist John Jurgensen notes:
In response to all this, filmmakers are starting to come to terms with the idea of releasing their work on the Web. It's a notion musicians grappled with years ago. Offering art online rarely earns a creator much up front, but it boosts the odds of broad exposure. With no need for old-fashioned film prints, going on the Web is cheap and quick. And directors can get instant feedback from online viewers.
The film originally premiered on 35mm at the 2007 Telluride Film Festival. Now available online, viewing appears to be limited to U.S. access only. Wired Magazine notes the free feature is for a week-long run.
YouTube's Screening Room
The film-friendly Screening Room keeps comments and ratings separated to the secondary page, unlike the normal YouTube.com. The trailer for "Nebraska" is rife with trite, negative comments, but Wang weighed in. He likes the "accidental encounters" that are unique to online viewing, as he told The Wall Street Journal:
So far he's noticed that those accidental viewers make more comments about the looks of the main character than the film itself. "I don't see a whole lot of communication about aesthetic. That's fine, too," the director says.
YouTube has been wrangling in filmmakers, but this first studio film is a big step in further attention to the initiative. In a recent video interview, Beet.tv spoke with directors Torill Kove ("The Danish Poet"), Fredrick Emilson ("Love and War") and Rob Pearlstein ("Our Time is Up") about their interest and inclusion in the Screening Room.
To help monetize some of the distribution, YouTube allows the filmmakers to their preferred purchase links, be it DVD purchase, HD download, or iTunes, respectively. Since June 2008, each film has over 300,000 viewers to date.
Need to be different, take chances
Keen on new media, Wayne Wang told the Associated Press of his challenge to other filmmakers:
"You kind of have to think differently about (filmmaking)," added Wang. "It has to move faster, the images have to be tighter, you can't really see a lot of details. If Thousands Years was shown on the computer, I would be kind of depressed… it has to be projected big."

But as the distribution avenues for independent film become fewer, Wang thinks filmmakers need to explore different alternatives and, above all, make better films.

"We as filmmakers need to be smart about the kinds of films that we make and take more chances," he said. "The problem is that most independent films are trying to make Hollywood films. They're basically straightforward narratives and they're a little more interesting, but not that much more interesting. Take a film like `Blair Witch.' It's not the greatest film, but it's at least something really different."