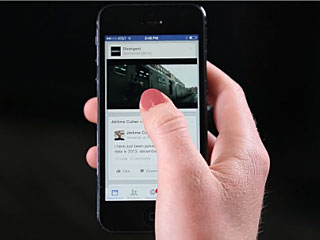 Scrolling through your Facebook feed, you'll soon see video automatically loading and playing. They'll also be silent, where clicking turns the audio on and re-plays from the beginning. Is this an aggressive presentation or a welcome opportunity?
The Wall Street Journal (article behind paywall) broke the news yesterday, which Facebook followed with a press release earlier today.
The initial test run of this will work for a vague set of users. The press release, which calls this advertising strategy a new way for marketers to tell stories, says this will work for "Individuals (personal Facebook accounts or verified Pages) [and] Some Pages, like those of entertainers and sports organizations." What exactly this means to non-Facebook press release writers is unclear, except that it will likely require uploading the video through Facebook and not their chief competitor, YouTube.
We'll also see a trailer for "Divergent," a science fiction film slated for early 2014 in what is likely their paid advertising placement, just below the first post or two. In Facebook's example post, the trailer for "Divergent" appears to auto-play a 20-second clip. Pressing the video re-starts the clip. Finishing or closing the clip opens a horizontal slider of more video clips, leaving no shortage of promotional video content for the user to consume.
This marks the first time that some of Facebook's "feed" will be moving automatically. Furthermore, auto-playing video has traditionally been a faux-pas, both for the viewer and also the bandwidth consumption. Other social media sites have ignored this, auto-playing looped, short movies like Vines (a product of Twitter) or animated GIFs on Tumblr, Google+ and other social networks. There's no indication of the time limit for this kind of content to share, but it's clear this is Facebook's move to get into motion.