(View larger on official site.)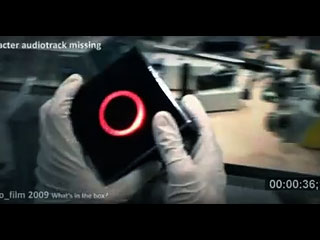 What's In The Box?, a short "demo" from Tim Smit and Steven Roeters, may be a glorified homage to the popular video game Half-Life. But it's an awful good one.
In case you haven't heard, with just a 9-minute video and recently a mysterious official site, it's been a viral hit for the last month. Clocking the success on just the YouTube embed (above), it's been seen by over a million and counting.
But there's more than just a one-off video. With "Box," there's a whole story behind the "magic box" and "Babel Research" which involves cryptic images, jumbled audio and fake sites that require some serious deciphering.
Fortunately for you and your spare time, it's all pretty exposed now. Of all the crowd-sourced sleuthing online — pages and pages worth at UnFiction and Gizmodo — the posts at Wikibruce and The Sudden Curve have the most complete research and walk-thru of all the images, sounds and links.
Related, the project is similar in style as J.J. Abrams' 2008 film Cloverfield, whose marketing strategy included planted viral videos online prior to the film's release. Abrams also talked about a "mystery box" at TED; "Box" apparently borrows some of the sounds from the TV show "Lost," which Abrams co-created.
In an anonymous comment on BoingBoing, according to a Dutch TV report, the project began as a hobby and ended on a budget of 150 Euro. "[I]f you can do this with 150 euro imagine what he could do with a multi million dollar budget."
Smit and Roeters are Natural Science students at Radboud University in the Netherlands.